cup saucer coffee tray-- German? 4329 ? VG ?
by Anne Henly
(Chicago, IL, USA)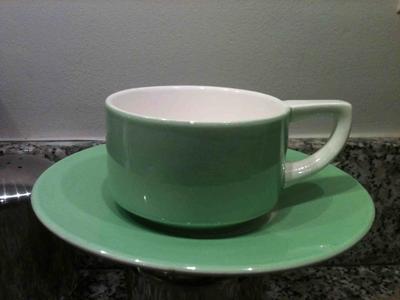 cup and saucer
I would like to find replacement cups for what I would call a ceramic "coffee set" that I inherited from relatives that had to flee Ulm, Germany in 1939. I doubt this set has any value but I grew up with this green and off-white set which included cups and saucers, a ceramic tray with metal handles and border, a sugar bowl with a metal top, and a cookie jar. I no longer have the cookie jar and only two cups remain but I still have the tray and sugar bowl, 8 saucers, and 2 cups and if I had a few more cups I would at least be able to serve coffee in their memory!


I don't know anything about the origin of these particular items, my family was Jewish and owned a building on the main square of Ulm where I understand the first floor was a store and supposedly at one point Albert Einstein's family rented an apartment in the building (you asked for details). Of the 5 siblings, 4 got out of Germany and moved together to St. Paul, MN but the only one who was married and had a child did not make it out and they died in the camps.
Back to the china-- this is not "fine china", nor is it particularly old, though certainly pre WWII. It has a very art deco-ish feel, but I don't know my styles, check the pictures to judge for yourself. The saucers have a very intense, light green rim and the well for the cup and the underside is bone colored. I do not understand anything about the ceramic marks even after reading your website because the mark does not seem to conform to anything described herein. Impressed in the clay on the
bottom of the saucers is the number 4329 followed by an undecipherable mark (perhaps a 1 or an I) then "VG" (in caps) followed by another 1 or I. Underneath this is a symbol which I guess is a shield with two cross bars, impressed into the lay, not painted on. There are no markings that I can find on the serving tray, sugar bowl, or cups.
I have included two photos of the mark, a cup and saucer, and the sugar bowl. I would really appreciate any help people can offer as ideally I would like to purchase any remaining stock out there (dubious) but simply knowing something about these would be fun.
Thank you very much for your help.
Anne Henly
================================
Reply by Peter Admin
Hi Anne
Yup, loving the details, especially the Einstein bit - it all paints a beautiful picture of these pieces of china - where they have been adn what they have seen. After all, the history of ceramics is the history of people (from pre-history onwards to the present day the ceramics used in modern technology).
This is a very nice quality cup in my view. Must be a top maker. Such nice quality glaze and a really slick attractive design. I make you right on the date - this is art deco c.1930's. The shield (beehive style) mark is a reference to the mark of Vienna, and very common for all and sundry to copy, but I can't find the exact mark anywhere, but nearest I can get to this type of impressed shield mark is Waechtersbach (or Wachtersbach).
Rontgen's dictionary of German marks doesn't appear to show this variation (or, at least, I can't find it).
Interesting post, let's hope we get some nice further contributions.
Peter (admin)