Dating a Goebel Figurine (NOT Hummel) Unmarked - without a trademark
by Pat B
(Rockville, MD .USA)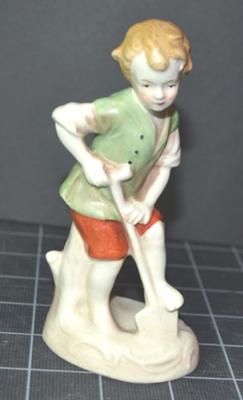 Genuine Unmarked Goebel Figurine 1
Genuine Unmarked Goebel Figurine
Hi All
This enquiry concerns a small (about 5 inches), very modest Goebel figurine of a boy digging in the garden. It is marked NM 572, 0A.
I purchased it from an elderly lady at a church bazaar many years ago (here in the US). I have always been a random collector of ceramic items, bought only because they had a certain attraction.
The boy figure was attractive because of the theme, gardening, and also because it looked European, and had a Meissen flavor.
At the time I assumed it was a nice Japanese knock-off piece. After that, it sat in my china closet for a very long time.
However recently, the more I stared at it, the more I began to wonder if it were possible to determine its history. I enjoy researching so I thought I would give it a go.
Through Web articles and a couple of books I determined that NM 572 was a Goebel series/model number. I discovered that Goebel produced many other lines of ceramics that were not Hummel. (yes, there is Goebel without Hummel).
I found that it was part of a series called 'Neue Figuren Meissen', ('Meissen style figurines').
I then emailed Goebel in Germany and received this response:
"In our model book your figurine is described as follows:
NM 572/A (Boy) and /B (girl) "The little gardener"
These figurines were produced in two sizes: /I and /0
1932 sculpted by our sculptor Reinhold Unger
1933 market introduction
1962 discontinued.
"Discontinued" means that molds and models were destroyed. It also means that production was ceased several years before the discontinuation year already.
The approximate age of an old Goebel product can be determined with the help of the engraved, stamped or by means of a decal affixed trademark.
Attached is a list with
the trademarks which have been used by our company since its foundation in the year 1871."
I have never seen the matching girl in my travels, which I find odd. Nor have I seen the larger size figure. They also provided a chart of their company trademarks over the years, with corresponding dates. Goebel started with a triangle and a moon and has had numerous trademark designs since then, such as the bee mark.
I was pleased to receive this information. However there is one problem: my figurine has no stamped or incised Goebel mark. I have seen this same figurine many times on Ebay with the typical Goebel crown mark, either incised or painted, from several different years during the timeline they gave me.
Mine has none of those, other than the little slip squiggle of the person that painted it. Did they ever use a paper sticker exclusively? Was there a time when no mark was used?
There are endless scenarios you could imagine that would explain its absence. The fact remains, it is very hard (impossible) to get a more precise date of production without any indication of a Goebel trademark.
I would really like to fine-tune the production date a bit more. I do have 1933 – 1958 but that's a very broad range. I probably will sell this piece at some point after enjoying it a bit more.
I don't know if it applies to other Goebel lines, but typically the auctions sites put a premium on older Hummels, which are easier to date.
At any rate it had been an interesting project tracking all this down. So ultimately, here is the information I seek: Does anyone know under what conditions and when the Goebel Company would not have put a stamped or incised mark one of their products?
Thanks!
Pat