Decalcomania Semi-porcelain plate rim shard - GMC or CGM or GCM or MCG or MGC Co.
by Rob
(Cleveland, OH, USA)
Hello, my name is Rob.


I'm a Cleveland State University junior. I do not have much of a background in porcelain. I have been researching the makers mark on this plate, and it is driving me crazy!
These pictures are of a shard from a semi-porcelain plate being researched as part of an Archaeology Lab project.
Material from the surrounding areas has been dated as early as 1850 and as late as 1920. The makers mark in question was first thought to be representative of GM Creyke and sons.
A few issues with this would be the presence of the crown, and the "& Co.", which are not indicative of this manufacturer. Creyke was an Ltd, as far as I can find, making the "& Co." an obvious issue.
gm-creyke-sons-marking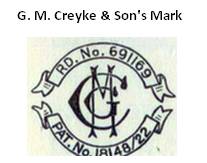 Here is some information I've found about Creyke; "In 1907 George Marshal Creyke operated as a pottery decorator and 'metal mounter' in Marsh Street Hanley - he lived at Wetley Abbey, Cheddleton.
By 1922 the premises had been taken over by the Bell Pottery Company and by G. M. Creyke and Sons, both of whom were still working there in 1940. Only Creyke was recorded as still in operation by 1947.
(Creyke in operation c. 1920-48). In 1907 George Marshal Creyke operated as a pottery decorator and 'metal mounter' in Marsh Street Hanley - he lived at Wetley Abbey, Cheddleton.
By 1920 he was manufacturing pottery at the Bell Works and used his expertise as a metal mounter to produce a teapot with a non-drip metal spout. The Bell Pottery Company and G, M, Creyke were notified as liquidated in December 1949.
The pottery was disused by 1950 and was undergoing demolition by 1953; the site is now occupied by the new City Museum and Art Gallery which opened in 1956."(1922 British Industries Fair p19)
The time frame fits, but the
issues listed still stand. We have done extensive research and cannot find any other manufacturers that fit the initials of the mark.
The plate may be part of a tea set, as a portion of what appears to be a decal semi-porcelain tea cup was found at the same site with matching decoration and gold inlay.
If this is true, these sets were commonly produced by Creyke, once again, this mark doesn't match any that we have found. The art itself is rather typical flower design, with shades of pink, yellow, and green.
The mark itself is not centered, as can be seen in the pictures. I'm not sure if that matters, but was noted upon inspection. Judging the quality of the work, it is most likely British in origin.
From what I've read, the decal work produced in America at this time was sub-par and did not hold up well. Sometimes fading into nothing. Any information regarding the mark would be greatly appreciated.
This information will be used in creating a catalog for future archeological finds, and will be useful in helping identify future finds in the greater Cleveland area.
I will update if we find any other relevant information or material concerning this shard. I imagine this is not the typical request posted this site, judging from the previous article I've looked at, but will be extremely appreciated all the same.
No emotional story of a family heirloom, or an exciting antique find. I will say, that the initials matching Creyke, but the emblem being so different is perplexing to say the least.
Hopefully somebody will pick up on something I've missed.
We even considered it being a forgery, but the complexity of it makes that seem unlikely. Oh, and no date with the makers mark.
That detail would have helped, but is unavailable.
Thank you for your time.
Rob