Deco Style Colclough China Mark "Made in Longton"
by Sue
(Derby UK)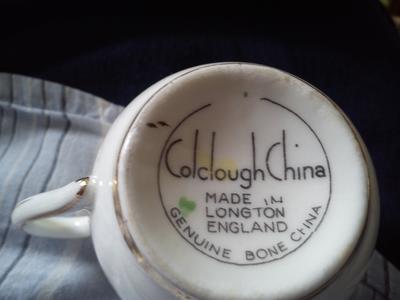 Deco Style Colclough China Mark "Made in Longton"
I love collecting china and pottery, and part of the delight is finding out a bout the age of the piece and wondering who used the china cup and saucer. I ponder as to if the china was used for best, making the item i have more interesting.


I have come upon three delightful cups and saucers by Colclough, the pattern is lovely and inside the cup is a floral pattern.
I cannot date or name the items, which I love to do.
I was hoping someone could help me with my detective work.
The items are in very good condition and are very pretty.
I have purchased my cups and saucers in a charity shop, I do use my items i have a vast collection which has taken years to do. I enjoy setting my vintage tablecloths and china out for afternoon tea.
Thank you for any help.
Sue
================================
Reply by Peter (admin)
Hi Sue
Many thanks for telling the story of your collecting so beautifully.
Yes, detective work is what it's all about, and touching upon the history of the items is interesting.
You are in luck because firstly, Colclough is my favourite English maker, not because it is the poshest, or because it is the best in design, but simply because it is the set which my mother proudly owned and brought out for what she called "Sunday best". Her bone china was to her a dream come true, as was her Irish cut glass and Victorian family silver.
Secondly, being a popular and well known maker, it their marks are very well cataloged. SO I can tell you the exact date this mark came into production. It was 1939. So we are talking of items made in or around the time WW2 was raging. The clue is also in the stye of the mark - very art deco. This is why I added these words to your original title - to help people find this post if they are looking for identification of the same mark.
Hope this helps, and the very best of luck in your collecting.
Peter (admin)