Delft or German manufacturer? Unknown blue crown mark.
by Stacy Wiens
(Dallas, Oregon)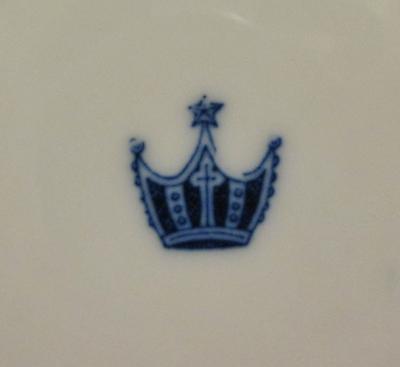 I am so happy to have found your site and hope you can help me solve my little pottery mystery. I started collecting pottery and fine china about 20 years ago after I inherited my husband's grandmother's small collection. She tended to collect one or two pieces that appealed to her and didn't have a complete collection of any one manufacturer or style. She especially loved water pitchers and cups/saucers. She was partial to German or Bavarian manufacturers as she was born in that area and didn't come to America until she was about 7 or 8 in the early 1900's. Her parents were very poor farmers with about 10 children at that point, and weren't able to bring many possessions with them. The few items they did bring were treasured family heirlooms of pottery. I still have their bread plate that is so worn you can see where fingers have gripped it to pass around the table for more than 100 years. Most of the oldest pieces in my grandmother-in-law's collection were very practical things like water pitchers, soup bowls and serving plates…that they actually put food on. I look at these items in my china hutch and can't imagine a meatloaf sitting on top of a Royal Albert rose. I treasure these pieces, the history they represent for my husband and children, and have tried to add to her collection. I actually have a few cups and saucers in a certain pattern now, instead of her single cup. I do have a nice collection of C.T. Altwasser that I hope my own daughter will one day love and take care of. My current dilemma is trying to figure out the manufacturer for a beautiful blue and white cup/saucer. It is such a different pattern from the other pieces my grandmother-in-law had. She tended toward modest and pale floral patterns, but this one almost looks delft. I have spent hours online trying to find this mark, but cannot find a blue crown that exactly matches it.
It is a 3-point blue crown with a star over the middle point. There is what appears to be a cross inside the crown with a strip of three dots/circles on either side. The crown looks very Russian Orthodox or German, but there are no other marks, letters, numbers, or even scratches in the pottery to give me a clue who the manufacturer is. Even though the brilliant royal blue looks rather Delft, I think this is a German manufacturer. As my grandmother-in-law was so proud of being German and still spoke German until her dying day, I can't imagine she spent some of her hard-earned money (she was EXTREMELY spendthrift) on a cup and saucer made in Japan or China. In fact, in the beginning, this was one of our biggest points of contention. I tended to gravitate toward a pretty pattern with no thought to its quality or history. She was very patient while teaching me what to look for and how to recognize quality pieces. I think she had her doubts about my ability. She asked me once if being Irish was somehow to blame for my lacking in basic understanding of pottery, silver, and linens. Needless to say, she did not find my collections of ceramic shamrocks too impressive. But, I married into a German family, and over time I did develop an eye for pottery, linens, and silver. She had such confidence in me that about a year before she passed, she had me put stickers on the bottom of each of her pieces of pottery indicating who originally owned it, what year they bought it, and who she wanted to inherit it when she died. By the 10th sticker, with my name being on none of them, I was getting worried. However, in the end, she gave me all of her C.T. Altwasser and this small blue and white cup and saucer. If anyone recognizes the mark or pattern, or can point in the right direction, I would greatly appreciate it.