Duchess Bone China Tea Set - Antique China, Fine China and Modern China Manufacturers Query
by Mandy
(UK)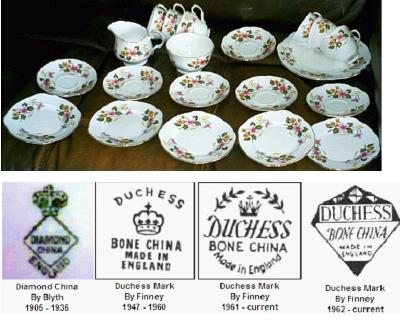 Duchess Bone China Tea Set - Antique China, Fine China and Modern China Manufacturers Query; Duchess Bone China marks
Duchess Bone China Tea Set - Antique China, Fine China and Modern China Manufacturers Query:


I have been looking on your site today, & am looking to see if my Nans bone china tea set is of any value, its a Duchess tea set with England & 200 on the bottom, can you help? or advise me of someone who can?
Thanks,
Mandy.
========================================
Reply from Peter (admin) below - just scroll down
HOW I MADE MONEY FROM BITS & BOBS OF OLD CHINA

.....more
Reply by Peter (admin)
To:- Duchess Bone China Tea Set - Antique China, Fine China and Modern China Manufacturers Query
Hi Mandy
Thanks for your question.
Duchess is a pottery mark used by at least 3 different firms.
**Update**
Thanks to a comment written by Graham - see comments link at bottom of the page - I have been able to update this entry
**end update**
1.
A. T. Finney & Sons - made at the "Duchess" China Works in Longton, Stoke-on Trent. Founded 1947 to current (see below for more details)
2.
Edwards & Brown of the Victoria Works, Longton, Stoke-on Trent (E & B L) Founded 1882, closed 1933. They were known to have used the Duchess label from 1910 - 1933 (possibly earlier).
3.
S (Sampson) Hancock & Sons based initially in Tunsall, then moved to the Bridge Works Stoke. Founded 1858 closed 1937. Duchess, registered in 1911 was just one of several pottery marks which included Magnet & Sons and Royal CoronaWare.
Finney's Duchess marks only began as a pottery mark in 1947. They specialized in china teas sets and tea services. Finney had taken over the Blyth Porcelain Co Ltd in 1935 based at the Blyth works in Longton, Staffordshire. Blyth's main pottery mark was known as "Diamond China". Blyth (1905 - 1935) were formerly makers known as the
Dresden Porcelain Co who operated 1896 - 1904 (possibly a Germanic sounding for the troubled times!). Before that they were a company known as T. Forrester and Son, begun c.1883. There were several pottery firms called Forrester at that time and their various incarnations are too complex for this answer.
So although the Finney Duchess pottery mark can only be traced back to 1947, the tradition and works it was produced from can be traced back on record to 1883, possibly off the records, earlier than that.
Nice to see them still in business dodging the bullets and takeovers (apart from by the ill-fated Tams Group). If my information is correct, they were taken over by the Tams group in the 1990's and when Tams later went bust, Duchess somehow survived as a going concern. I like plucky underdog stories like this.
Duchess, for me is interesting in that it still survives (or survived) into modern times as a viable producer. As I said, this is quite a rare occurrence in the china manufacturing industry.
In terms of value, the first thing to say is valuations for vintage and fine china are specialist niches unto themselves with vast amounts of knowledge and research material required.
So whenever visitors ask me for a valuation, I send them straight to the following page which has been written especially to help you in your search for how to value your porcelain wares or china collection.
Feel free to await answers from knowledgeable others who may come across your submission in this thread, but if you would like an expedited answer, go to my page here in a hurry!....
www.figurines-sculpture.com/antique-china-values.html
Best regards,
Peter (admin)
p.s. The following page is a 'must see' if you are self-researching fine china - for value and identification:-
Researching the identity and value of antique and vintage fine china
.