European or Japanese - A Beautiful Short Bulbous Vase - unknown impressed mark
by Zane
(Palm Springs, CA)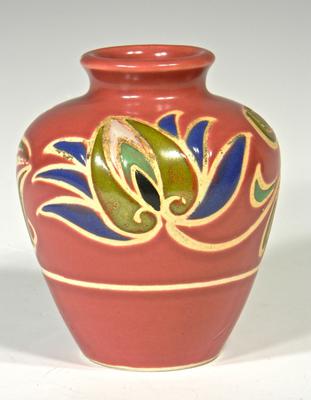 Bulbous Vase - unknown impressed mark
Though I certainly don't consider myself a connoisseur of pottery and ceramics, I have been collecting pottery here and there for years and in fact have a moderately large collection of pieces (mostly unidentified).


As a general rule I purchase a piece of pottery because I like it - not that it is a collector piece, or rare or a designer signed example, and that is how I have ended up with so many pieces that are fortunately marked but usually turn out to be obscure companies (at least to me) or have marks that are illegible or I just have never been able to identify.
Part of the excitement in collecting the less easily identifiable ceramic and pottery pieces is the search to actually identify them.
In that respect I have found sites, such as this to be very helpful.
The internet makes it possible to connect with people with similar interests and unprecedented knowledge.
And with that being said I have this beautiful 5 1/2" high ART POTTERY VASE with a small lipped mouth and a bulbous body in a rich deep pinkish rouge glaze with wonderful stylized lotus designs in shades of blue, green, white and olive glazes.
The design itself appears to be created in a wax resist outline revealing the bare pottery surface around the flowers as well as the band that completely encircles the vase just below the decoration.
The clay as you can see is white. It is in excellent condition with no cracks, chips or repairs though I have noticed a couple
of glaze flaw spots that occurred during firing.
It has an unidentifed impressed mark underfoot with what appears to be a Tree or a leaf in an 'oval'. I thought it may be Eastern European or Austrian or German, circa 1900-1930's.
However, I haven't been able to actually identify the maker or the time frame in which it was made so it's still a mystery.
Someone from another site suggested that it might by Japanese Awaji pottery, but on further investigation on my part, it doesn't resemble any of the Awaji pottery marks that I have found on line.
Of course it could most definitely be Japanese pottery made for the Western market.
I purchased this at a little shop in the Pacific Northwest (Seattle area) almost 25 years ago. They had no clue at the time as to the identify of the piece nor a definite age or time frame that it was made.
So I hope that someone out there who is a member of this site or stumbles on to it as I did, may have some information that will solve this mystery or at least point me in the right direction to keep searching it out.
I would be most grateful. Thank you in advance.
Zane
-----------------------
Reply by Peter (admin)
Dear Zane
Yes, a beautiful vase but a real mystery.
The style looks Eastern European, but the mark looks as if it might be Japanese.
However, the Russian cyrilic language often looks strange to our eye.
Let's see if any helpers come forward.
Best regards
Peter