French Pottery Planter/Cachepot Mystery Hand Written G Pierced with Arrow Mark
by Cindy
(ohio)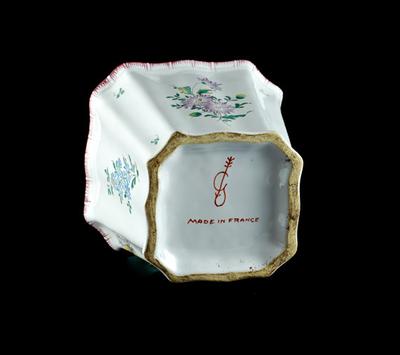 Mark on foot
French Pottery Planter/Cachepot Mystery Hand Written G Pierced with Arrow Mark:-


I am an avid antiques collector and regularly attend tag sales and auctions in my area to hunt for new treasures. I found this French cachepot/planter recently at an estate sale and it was a "love at first sight" moment.
The planter was pretty dirty but beneath the grime it looked worth the financial gamble so I pulled the trigger. When I got it home I cleaned it up and was really happy with its appearance - but that is when the mystery deepened. I really wanted to find out who produced this piece and roughly when it was made.
Since then, I have been searching high and low to try to find information regarding the manufacturer, mostly to satisfy my curiosity but also to find out if it is actually worth anything. If it turns out to be valuable, I probably won't use it for a planter but will use it to hold my mail or something like that.
In my opinion, the piece has a nice form that is a step above the typical four sided planter/cachepot. I particularly love the detail found in the hand painted floral decoration, especially on the front.
Based on the overall quality, I thought the planter/cachepot seemed to be more of a professional piece rather than a "one-off" by a hobbyist. The planter is nicely proportioned and measures 4.875" tall and 3.75" wide at the foot. It weighs in at just over a pound.
The mark on the bottom of the planter is clear and easy to read, although I can't quite decide if it is a "C" with an arrow or if it is actually the letter "G" with an arrow.
I thought the makers mark would not be difficult to research but it has proven to be quite a task. I have checked several of my research books and have also spent a lot of time looking online, but to no avail.
I'm hoping someone here will recognize the mark or maybe the form of the piece itself. I suppose I am lucky that I have some information to go on (i.e. that the planter was made in France) but that's about it. I'm also thinking that it was made for export since the writing on the bottom is in English rather than in French, but that is just a guess.
Thank you in advance for any help or background information you can provide.
Cindy