Green Celadon plate with imprinted mark Chinese or Japanese?
by Thomas
(Arkansas)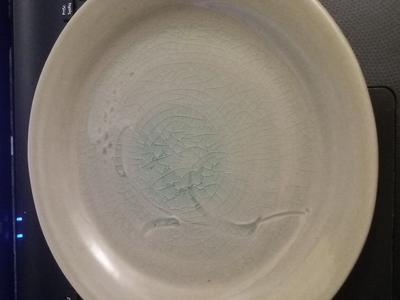 Front
I have just gotten into collecting Japanese and Chinese porcelain. I am a rank newbie but I working to learn more by reading books and visiting websites.


I am on dialysis and this gives me a hobby that so far has been a lot of fun. On dialysis days I feel pretty bad and spend most of the day laying in bed. This gives me the opportunity the read books and do research on the internet.
On non dialysis days I feel pretty good and either go to flea markets or trade days and try to find items. The marks are the hardest part for me. I have learned a few but many are hard to find. I need to get a good book. I really don't know what book to buy.
I did manage to find and buy cheap a Kutani Geisha figurine that is really nice. I really am more interested in Chinese porcelain but will collect Japanese also.
This green plate I bought at a flea market. It may be modern but I cannot tell. It has crackle green glaze and I guess grass(perhaps rice?) on the front. The back is unglazed and has a two character mark.
It really is a nice looking plate regardless of it's origin. I wanted to post a picture of the side so everyone could see the place where the glaze ends and the unglazed part begins but could not figure out how to post more than four pictures.
Can anyone tell me about the mark and plate? Thanks.
I hope this is not some simple mark that I just don't recognize because I am a newbie. I did try a search here but really don't know how to describe the plate when I search. I also tried a few sites that have marks and there meaning but could not find anything.
I plan to keep the plate regardless of what it turns out to be.
Thomas