Hand painted tiles. Northern European?
by Sylvia Herold
(Oakland, CA USA)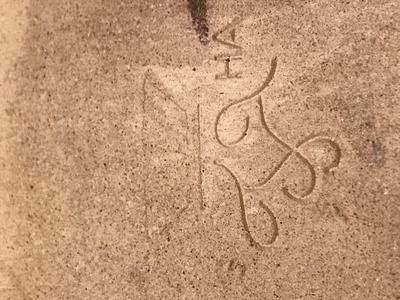 Hand painted tiles. Northern European?
I found these two tiles at a consignment shop I frequent. I buy things I like (but try not to buy too many things!) If I could find more of these, I might use them as accents in a tiled bathroom or backsplash. Before I found this site I did some general searching online and couldn't find a match. The marks are incised (stamped.) It's hard to see in the photo but, on top of the crown there is a small cross.


I have never visited this site before. I do not have an eBay shop. I am simply someone who modestly collects things that interest me. If someone can help me identify the maker and country of origin, I would be terrifically grateful.
p.s. I attached four photos, I hope!
----------------
UPDATE
----------------
Hi. I wrote earlier asking if anyone could help me identify the maker of my tiles.
I found similar tiles on eBay. The tiles are from Holland and the maker is Royal Tichelaar Makkum.
So the mystery is solved.
Take care and keep doing the good research!
Sylvia