Handpainted Porcelain Plate with Jester Cap and "D" back-stamp
by Camilla Watson
(Stockton, California, USA)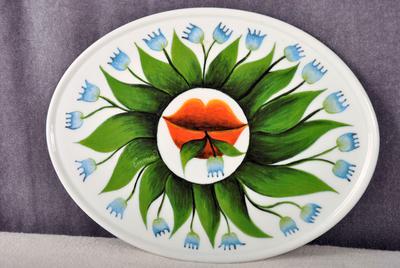 Face side of plate
Ok! This is my second time typing my full story into this window- I must be a crazy collector to write another 600 words about this plate, right??


First of all what I have is a small porcelain art plate.I have been trying to find out any information possible about it. But despite hours of searching through online maker's mark resources, and search Ebay as well, I have come up stumped at every turn. It seems such a distinctive mark, can no one have seen anything like this before?
Now for the item description:
The plate is oval in shape. It measures 9.5 by 7 inches and it is about one quarter inch thick. The edge of the plate is rolled, raised all around. This piece feels like heavy, dense and smooth bone china (porcelain, versus ceramic or plain earthen pottery). The back side is unglazed and at one end, it has neatly impressed back stamp markings. The mark consists of a Jester's hat (also known as a "bell n cap") and underneath is a capital letter D.
The face of the plate is decorated with a beautiful handpainted design. The design has obvious 20th century decorative art influnces. To me it seems it must have a date of origin from no earlier than 1960s through maybe the early 2000s, which is about when I located the item in a Northern Calfornia thrift/boutique, not too far from San Francisco.
The subject matter is a pair of bright orange/coral lips (two lips) surrounded by a border of pale blue tulip flower plants. The lips are holding a single tulip, by the stem and leaves. The face of the plate
has also been signed by the artist. It looks like the signature: EMMA, was scratched into one of the leaves, while the paint was still wet.
I have held this plate in my collection to the side for several years. I do not like collecting things when I have no story to talk about with the item, for example I want to know where it was made, when it was made and mostly, who made it. Otherwise, what fun is there to collect things at all? I want to be able to add to this piece, display it with other pieces from the same maker, if possible.
For some reason I am reluctant to part with this particular piece. So periodically I pull it out, and begin a new round of research hoping to identify it. But I am a collector from way back, and my house is so full! I began collecting mid-century modern art, figurines, pottery when my husband and I bought our wonderful 1957 ranch house w/ Danish modern type finishing. I have finally almost given up on this item, and in frustration I even recently listed the plate for sale on Ebay (even though it has little to do with my online store, which specializes mostly in vintage, MCM fashion, clothing, design and sewing - a whole 'nother side of my hobby interests!) I kind of hope no one will bid on it so I can buy it back from myself, but I also thought maybe someone who knows what it is, and wants it in their collection, should have a chance to own it... but I'm still secretly hoping some one can help me here!