Harker Pottery or Not with Bow and Arrow USA mark
by Aleta
(Denison, Tx, USA)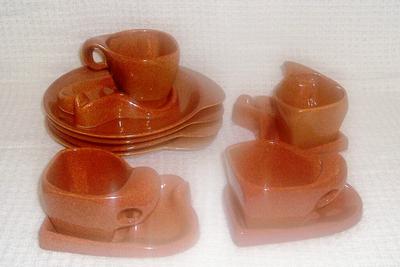 Harker Pottery or Not with Bow and Arrow USA mark
Hi everyone,


My name is Leda. Well actually it's Aleta but I prefer to shorten it. Aleta is just too close to Aletha and Oleta and my least favorite Althea. Anyway, I'm a pottery hoarder and garage sale fanatic.
Can't keep my hands off the stuff, especially if it's odd or something I've never seen before.
I recently found a gorgeous modernist style 12 piece Tea and Toast snack set with ashtray cup holder combo saucers at good ole Goodwill.
The pottery mark is impressed and glaze filled but is definitely a bow and arrow, similar to Harker pottery marks but do not say Harker Co. etc. These marks are on the backs of the plates only.
The cups and cup holder/ashtray combo pieces are not marked. I can definitely make out the bow and arrow and an impressed "USA" above the back section of the arrow shaft. But there are two impressed marks below the front section of the arrow shaft that I cannot make out.
Those two tiny marks look like two letters or two numbers, but I can't be sure.
The glaze color is a coral color with darker specks. The coral color is darker with a little more red than shown in the images provided.
The color of the plates shown is closest to the true color, which is coral or similar.
I thought the pottery might have been produced by Russell Wright and might be from the Steubenville line. But again, the mark is not exactly like Harker pottery marks and it doesn't say Russell Wright or Steubenville.
I really would like to know who made this set. Any help in identifying the maker would be greatly appreciated. I've searched for weeks now and have come up with nothing other than what I've stated already.
I don't know when it was made either but it really looks like fifties to seventies pottery.
Thanks in advance for any info.
Leda