H&Co L - a mark of Haviland & CIE or not?
by Mark
(USA)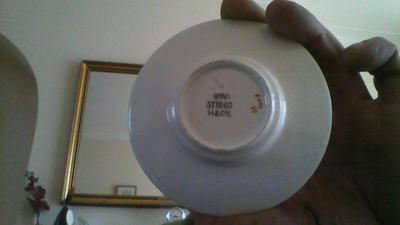 H&Co L - a mark of Haviland & CIE or not?
Hi Peter, I've worked in the construction industry for many years,and always been interested in antiques, so as a hobby for the last 18 months I carry myself off to the the local car boot sales or trawl the local charity shops and purchase various china pieces,as a way of enlightening my knowledge.


After my purchase I research my finds via the internet or reference books,thus giving myself a rough minds guide to pottery, as I'm only learning and probably never break the ranks of a novice I haven't wanted to to specialize in one manufacturer.
So I tend to go for pieces that have a bit of age and quality or in some way varies from the norm.
A few weeks ago i bought a miniature cup and saucer from my local charity shop. On researching it i assumed it to be Haviland & Co circa 1890. Transfer print, hand painted but am not quite sure, as i am unable to exactly match the logo.
I can't find the registration number or any links to find what they refer to and what do the smaller numbers refer to, 5007 25 on the saucer and 5007 21 on the cup
As this the first time I've come across this, I always thought registration numbers were
formatted in the classic diamond shape or are there variations, if so where would I research these in the future.
Any help would be greatly appreciated
Regards
Mark Taylor
==================================
Reply by Peter (admin)
Hi Mark
I looked up all the H & Co L marks I could find of Haviland & Co - the list is here....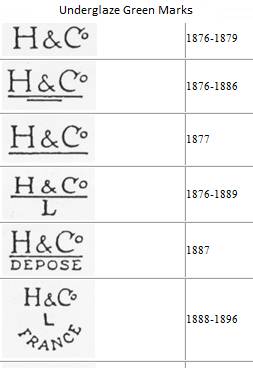 I can't see a match.
There is evidence of more of this set being around as I found more of it by Googling the registration number - see this webpage:- http://ancientpoint.com/inf/6458-1910_h__co_l_grapes__grapevine_tea_cup_triord_no_571260haviland__co_limoge.html
I don't know who http://ancientpoint.com are - they call themselves "World's largest web museum" so you you would think a legit site. But for me (a non-expert in these matters) this set looks as if it was painted by an amateur - perhaps when china painting was all the rage in the 19th century. Looks to me like they've done their own version of the mark and made up a registration number. The kite registration mark was British, not American as far as I know. Most Haviland is French/American, not British. Sadly, I don't know if the US had their own version of the registration system.
So this set is a bit of a weird hotchpotch, so I find it confusing.
We await a Haviland expert!
Peter (admin)