Hopeless search on gorgeous fluted blue and pink tea set query (yet another crossed swords marking!)
by Carol
(Milwaukee, Wi)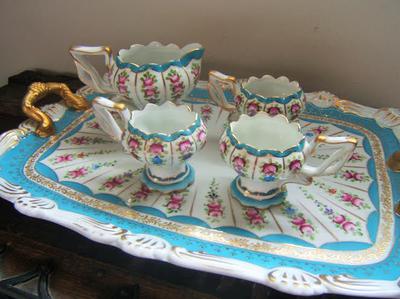 gorgeous fluted blue and pink pretty tea set with tray
Hello to all! My name is Carol and I'm at a loss for this "near-Meissen" symbol on this gorgeous tea set. Though it is only a partial set, each piece is marked with the same crossed lines. All tolled, I have 3 intact teacups, no saucers, the very large footed platter with heavy, heavy gilt and hand painted roses. Two lids to ??? and a creamer. That is all that remains of this set. If it's discovered on here as to who made it and perhaps a pattern or year, I would love to add to this set. It is the most lovely shade of turquoise I have ever laid eyes on. The photos do not do it justice at all.


I had an 85 year old man come to me with this partial set in summer of 2014, it was his mother's according to his vague memory. His desire was too to find out who made it. My instant thought was Meissen, until I went on here and found nothing to be further from the truth! Yikes! I love this set, it was given to me by the gentleman and all he asked was that I find out who made it. "Sure, no problem" I told him! Ha! It's a mystery to me and I've spent hours and hours trying to find out. I asked a semi-expert as well and he too, thought Meissen. When I informed him of my non-Meissen findings, he claimed then he didn't have a clue who made it.
My usual interests are antique lace and linens and lamps, but I've recently had a yearning for beautiful porcelain pieces. China in general has become quite an interest to me lately. It is so stunningly hand painted, I would love to learn how to do so. That is, if I can paint! I may
find that my results would be better done by a kindergartener. With my love of lamps, even though I very much enjoy cast iron, the porcelain ones have come to catch my eye (and pocketbook) more and more as of late. I'm turning the corner with my collecting of things. My interests are widening greatly. Much different than in the early nineties when everything was roosters and cows and primitive. I have come to appreciate aged items and how they survived past the millennium. I have a vast appreciation for the quality of finer things made in a time when everything was done by hand and done correctly.
My collection of antiques do range from lace to the obscure. I even have a set of horse's snow shoes from the late 1800's. These were used to help sleigh driven rides through thick snow and the horse wouldn't cave and get stuck. I love items that had a true purpose and that purpose has a story. Things that we no longer use in today's world, but still hold a dear place in our history. Like hair receivers. No one uses them anymore and many people can't identify what one is, When you tell them, their eyes light up with a new appreciation for something they didn't know. Like the old saying "you learn something new every day".
Since I have to fill this in with a minimum of six hundred words, I'll tell you that I have 5 dogs, a cat, a fainting goat and 6 chickens. We live on quite a bit of acreage that allows us to do so in our area. My kitty has spent many an hour searching with me for this said hallmark, she tends to fall asleep on the job. Thank you so much for any and all help! Best to all!