Impressed cross, dots, letters on bisque ewer with enameled details
by Lina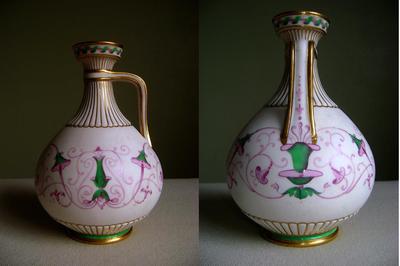 ewer x mark with two dots
Hello,


I am so happy I came across your website!
This is my first post here. I hope you can help me identify marks on the ewer I purchased some time ago on ebay.
The seller knew nothing about its origin and sold it as unmarked.
The body of the ewer is bisque, the inside is glazed, the allover design is hand painted purple ornament in what looks, to me, like Renaissance revival style. It is also decorated with gold accents and raised green enamel.
The ewer is marked on bottom with the incised
- cross with 2 dots,
- letter S,
- oval or letter G,
- numbers 567.
I looked through your Pottery Marks Forum and found similar marks on Minton – cross-dots for the year? S for September, G – for the maker, 567 – pattern #.
Can it be Minton?
Or is it German?
Any info on this piece would be greatly appreciated.
Lina
----------------
Reply by Peter (admin)
Hi Lina
Thanks for showing this lovely wine container.
I can't really define this style. It has some classical lines, but I can't really put my finger on what movement has influenced the design.
If we could figure out what style it was, we could search for others like it.
If anyone has any ideas please post.
Best regards
Peter (admin)