Incised "M over W" inside a pitcher mark on old bue & white tile
by Alex
(Beulah, Michigan, USA)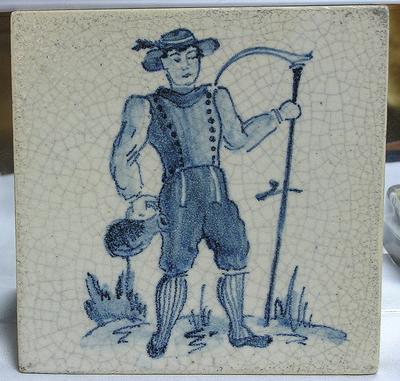 Incised "M over W" inside a pitcher mark on old bue & white tile
Incised "M over W" inside a pitcher mark on old bue & white tile:- We live in Northen Michigan and find a wide variety of things at local estate and garage sales. Over the years we have amassed quite a collection of resource material but we still routinely find things we can not identify. At one time we had several booths in a Traverse City, Michigan Antique store and we have been selling on ebay for about 12 years.


We find it fun, most of the time, to try to identify unknown objects ranging from death masks to pottery and glass. The discussion boards that are found on ebay have been very helpful in identifying things, with many people there willing to share their knowledge about various types of antiques and collectables.
However there are times when frustration sets in, when after looking we are not able to identify an object. One of these cases is that of a vintage art pottery five inch by five inch tile with a blue image of a farmer? on the front. On the reverse is the mark we need help in identifying. It looks like a pitcher or jug with an "M" over a "W" inside it.
We have not had any luck in identifying the mark and while looking on line found this interesting site and thought we would try it. Any help would be greatly appreciated.
Thanks,
Alex and Mary
=================================
Reply by Peter (admin)
Hi Alex and Mary
Fun and frustrating at the same time. Yup, I know that feeling well. Welcome to my website!
We do get a lot of answers to very mystifying queries here - answers which have quite amazed me, so hats off to our visitors.
All I could do with this one was to look at all the MW marks I could find. Goddens UK directory showed Warren McKenzie, but the mark shown was nothing like your pitcher mark.
I looked at Rontgen for Germanic marks and there was nothing.
There was an MW mark shown on some Italian Cellini-Craft metal platters which incorporated fancy ceramic tiles within the design - which I think was just co-incidental as neither the tile nor the mark was anything like.
Now what happens is we throw this open, and with luck someone just might post a comment which solves, by which time you may have lost the will....
However, it will to be sure to be of use to others.
This identification lark does sometimes take time.
Best regards
Peter (admin)