Is it fake? - seems to have lots of different marks in one - Crown, Globe & Shield
by Heather
(Cardiff WALES uk)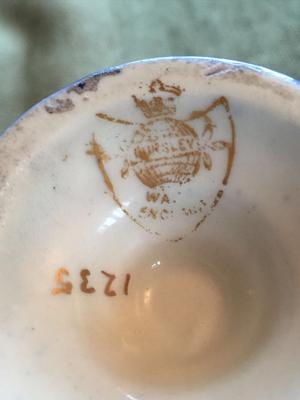 Crown, Globe & Shield ?RSLEY, WA?? ENGLAND
Hi everyone


I'm Heather I live in a small village just outside of cardiff in Wales uk. I'm 50"odd" years old and I've just started getting interested in antiques knick knacks etc., since my auntie died and left the contents of her house to me - she was a hoarder !! The house was only small but jammed packed full of stuff. Took weeks to clear it out - now I'm just going through the "sell it " or give it to charity stage as a lot of her items are not to my taste and also after clearing her house I certainly only want to keep things that I love and can appreciate and look at - nothing in draws and forgotten about.
Having 2 grown up sons they would not be interested in any of her things - so I've been pottering through everything.
I love researching the items she has - as I'm an avid treasure hunter as well, finding unusual objects and researching them is part of the fun.
I hope that someone out there can show me the light with regard to these two objects.
I have to say that these two pieces of pottery have stumped me. It looks like it's Aynsley but they don't have anything like it - then could be wade but again they don't have anything like it so I'm thinking it may be a fake trying to mix a few marks together to make it look good.
The jug and sugar bowl are handpainted with gold and the detail is of a branch with leaves and flowers painted in a sort of enamel, with a pretty bird, and cobalt blue as a base and are nice quality, but can I find the mark ? Google burn out definitely. I mean it's not as if they are worth millions, but the time I've taken to try and find out about them, you would think they are !
Came across your webpage site, which I've trawled to see if anyone else has had a similar mark and thought I'd give it one last try - and then I can move on. I keep putting them down and going back and trying again !
It's been very frustrating ! But I just don't want to be beaten by it as normally I can find the mark as most of her stuff was run of the mill ceramics, so not hard.
This one has certainly got to me. So fingers crossed some one out there can help ?
Thanks for reading
Take care
Heather