Japan Pottery Mark Query - Cherry Blossom Motif in Red with "N" inside
by Victoria
(Surry Co., NC)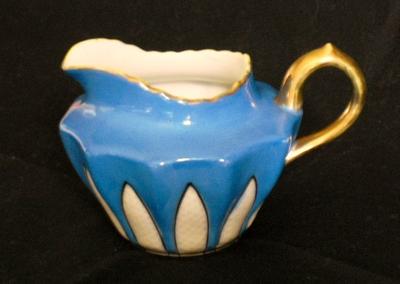 Blue Creamer - Japan Pottery Mark Query - Cherry Blossom Motif in Red with
Japan Pottery Mark Query - Cherry Blossom Motif in Red with "N" inside:- We just found this website and already we love it! We collect small china pieces, and know quite a bit about most of those. But we also have a sweet little creamer left to me by my parents, about which we know very little. It is a deep sky blue with an intricate honeycomb pattern in white, and with gold trim (see the two photos).


The back stamp is in red: a cherry blossom motif with an N in the center, and Japan underneath. It has a tiny bit of wear in one spot and on the gold handle, but no chips or cracks. The raised edge on the base still shows the original blue paint, and it is possible this is hand painted, although we are not sure.
Honestly, we wonder if this piece is antique at all, or just a very nice reproduction, but we thought there might be a small chance that it is an early 20th Century Tashiro Shoten piece.
We would love to know more about it, since we will be passing it on to the next generation. Can anyone help us to identify this little creamer?
Thanks so much for any and all help!
Victoria
==============================
Reply by Peter (admin)
To:- Cherry Blossom Motif in Red with "N" inside
Hi Victoria
Welcome aboard! According to excellent website Gotheborg.com (see http://gotheborg.com/marks/index_jap_marks.htm) - these 5 'M' Cherry Blossom Marks, in the 1920's were licensed out by Noritake to other subcontractors who used their own central motif inside the circular M ring of sherry blossom. These wares were for export to the USA specfifically.
Gotheborg gives various examples, but not your exact one. Apart from looking genuine, I see no login in why anyone would want to fake this mark in recent times, as these pieces are not very much more valuable being fairly humble 20th century export wares from Japan.
Peter (admin)