Large 4 Handle Vase - Rare? Can't Identify Makers Mark
by Michele
(Flushing MI 48433)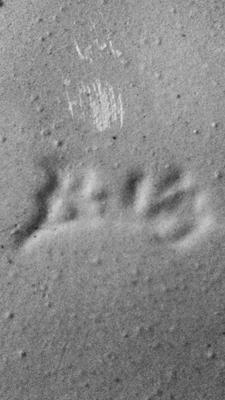 Large 4 Handle Vase
Hello everyone my name is Michele and I seriously did not like history in high school but have found in the past 20 years that I had a hidden love for it. I buy, research, and sell online.


Usually research first of course. In this case though I found a vase at goodwill that I couldn't resist for very cheap. $10 I cannot make out the makers mark. I have searched online to every country. I have only found 3 of these vases.
One sold for $225 but all 3 had little to no information and couldn't make out what the letters of the makers mark are. My search has been about 4 to 6 hours a day for the past week.
It can be time consuming abs frustrating. It's possibly French, Art Nouveau?, could be drip pottery, flambe glaze? I am mostly at a loss with the impressed backstamp.
I would like to sell it online but really want to have more information first. Thanks for any help and I will still work my quest.
lol my motto is " everyday is an adventure" I love treasure hunting and helping others as well. I buy things cheap and sell them cheap, usually, and everyone wins. God is good!!
My main frustration with this certain vase is that the signed mark is right there. It's like the answer but I cachet make out what the answer is. It would be worse if there was nothing there but it's there.
It starts with a B but the rest is a blur even with a magnifying glass. I tried the paper pencil trick and nothing. Thanks again for any help. I've used this site before and find an answer on a vintage England item I had so I know this place is very helpful.
Bless you all!
Michele
--------------------
Reply by Peter (admin)
Hi Michele
Thanks for posting. Interesting item that looks a lot like it stems from Turn Teplitz, only it is a bit too plain in decoration and detail than most from that stable.
I can't read the mark - does it say Bolz?
Best regards
Peter (admin)