Large German Style figurine of a Man in Period Dress
by Sasha
(England)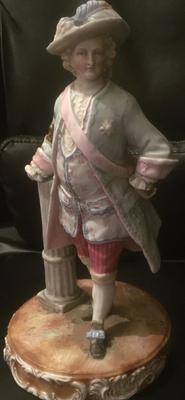 Large German Style figurine of a Man in Period Dress
Hello everyone.


I recently aquired a beautiful antique figurine from an auction.
The best gem I found is this website! This website and Peter has given great information and answers previously, so here's hoping.
I am having conflicting reports on where the figurine origins from. I have been told Dresden, Carl Thieme.
It has no markings underneath at all. It is a beautiful figurine missing a hand.
But I think it is from the 1800's.
Any help would be much appreciated.
Thank you.
Sasha
----------------------------
Reply by Peter (admin)
Hi Sasha
Yes, I think this is German. It is high quality and unmarked which sometimes suggests old (around mid 19th century maybe).
A bit of a mystery, but let's hope we can get some help with this one.
Best regards
Peter