Limoges Peint Main mark G?
by Deborah
(Wellington, New Zealand)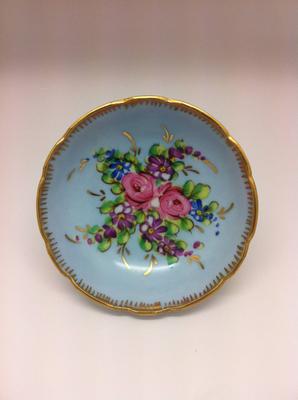 Help me find this artists mark.


I'm a collector of English china (especially Shelley which I adore) and Staffordshire pottery. I have a reasonable sized collection of Shorter and Son 'Wild Rose'. My collecting bug started about 25 years ago when my husbands grandmother passed away and the grandchildren were invited to pick a few pieces of china. He wasn't sure what to pick so asked me. I picked a few pieces - some mismatched Shelley (Rock Garden and Melody) and two pieces of Shorter and Son. These were kept in a cupboard for many years. Fast forward to the digital age with Google, eBay, Etsy and a myriad of other sites providing information and more china. As well as collecting I also hunt out interesting pieces - sometimes to keep and sometimes to sell.
On a recent weekend treasure hunt a very small miniature three footed dish caught my eye. A lovely shade of pale blue with beautiful flowers and gilding it stood out. Knowing nothing about Limoges other than it comes from France I thought I'd buy the piece and do some research.
The back-stamp is in green ink and says Limoges then France underneath. There is no underlining. This appears to be from the period 1900-1930 and is a piece that would have been sold as 'white ware' to a decorator or decorating house. It also has 'peint main' in script which I understand to mean hand-painted.
It is the signature that is interesting. Is it GV or GD? And what is the painted squiggle above it? Is it a crown of sorts?
All my looking online has found nothing. Has anyone else come across this signature?
It's probably a long shot but I'd love to know who the artist was.