Little Blue and white Ceramic Parrot Bird with incised "Camil" back stamp
by Sally
(Elstead, Surrey, UK)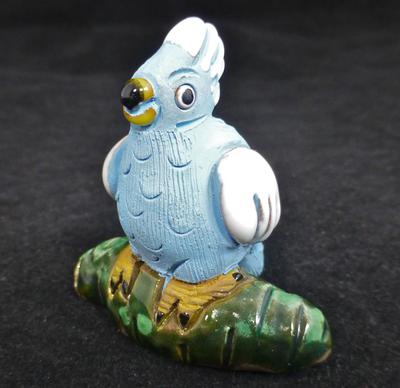 Little Blue and white Ceramic Parrot Bird
I have found an unusual little ceramic blue and white parrot like bird, sitting on a green branch. It is quite naive in its construction but very attractive. He has a huge personality for bird so small. The bird has an interesting mix of powered blue unglazed areas while its wings and head crest are gloss glazed white. It has a ochre brown and black beak and unglazed ochre toes with black toe nails. I think it is stoneware.


It has a clear incised back stamp saying "Camil", but I cannot find any reference to this back stamp and name online. I have tried all kinds of search terms but Google keeps trying to change Camil to Camel! There is a Pia Camil but they seem to make large contemporary ceramic sculptures.
The bird is small measuring 6 cm (2 1/2 in) high, 6 cm (2 1/2 in) wide and 4 cm (1 1/2 in) deep. Can anyone help?
I would love to know where this bird was made and by whom. I wonder if he is from China or the Far East. I do have a small online vintage store and I find researching the history of vintage items fascinating, but this bird has me stumped. Thanks Sally