'M' With Crown Japan Pottery mark Query
by Cheryl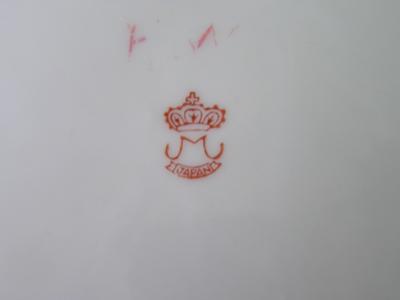 'M' With Crown Japan Pottery mark Query
'M' With Crown Japan Pottery mark Query:- I have a some china. The mark is a crown with 3 panels, and a cross on the top. The letter "M" is underneath that. The M has a curl on the beginning and end of the "M" and beneath that is "Japan" written in a banner. I'm just wondering who the maker is and where I can find more information about this set of china.


Thanks in advance,
Cheryl
===================================
reply by Peter (admin) below - just scroll down...
HOW I MADE MONEY FROM BITS & BOBS OF OLD CHINA

.....more
Reply by Peter (admin)
I can't find this exact mark in my books, but it would be typical for the Noritake company to use an M with a crown. They have been recorded to have over 400 marks, many of them variations of the M for Morimura (the family name of the founders).
Can anyone else give a confirmation this M mark with crown is Noritake?
A visitor sent in pictures of the wares, which I have added above. Many thanks for that.
Always send pics of the wares too. We now have the technology to upload up to 4 photos with the original submission.
You can do a certain amount of your own research online by knowing the most efficient way to search. On my
China Replacement
page, I show you how.
I give
general tips on pottery marks here
.
Here my pick of websites for Japan marks:
Note: Pottery marks online research is a time consuming and often thankless task. Free pottery mark online information is often limited to the websites of antique dealers who tend to have only selective information. The most thorough antiquarian online databases are private and levy a charge. Some are better than others, but a good one can often be both cost effective and time saving.

Gotheborg.com - Chinese & Japanese and Far East porcelain marks - export marks are normally in English, often with English sounding patterns and brand names.

Hope this helps.

Best regards,

Peter (admin)