Mermaid Pitcher Jug Mark - 2 Dots above "Deponiert"
by Linda Bird
(Rome City, IN, USA)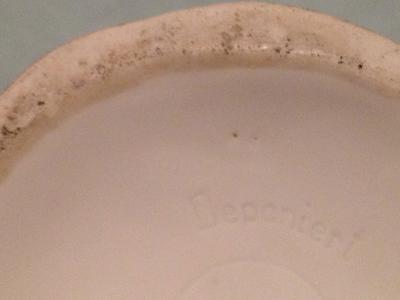 Mermaid Pitcher Jug Mark - 2 Dots above
I was given this 6" tall mermaid pitcher by a friend in Florida. My friend is from Boston, MA. She said that the pitcher had belonged to her mother (who has passed). This pitcher has the word "Deponiert" on the bottom, along with 2 small dots above this word.


The 2 small dots seem to be some kind of identifying mark, but I have not been successful in finding any information for the 2 dots. I have researched the word Deponiert and found its German and French meanings (copyright or registered), which has been no help so far in identifying this pitcher.
There are no other markings on this pitcher other than the 2 small dots. I do not know the history of this item, and I do not know where my friend's mother got this item. I have found photos of items online that look similar, but they have blue markings or some other markings on the bottom, and are not exactly like this one.
I do not see the words" Royal Bayreuth Bavarian" anywhere on the pitcher. Would you please help me to solve this mystery, to determine if this is an antique and to help identify this mermaid pitcher?
Linda
===========================================
Reply by Peter (admin)
Hi Linda
I don't know too much about this area, but I did find something similar which looks like by the same maker - marked as Royal Beyreuth - that sold for around $7 USD on eBay. I searched completed ebay listings for "Royal Bayreuth Lustre Deponiert"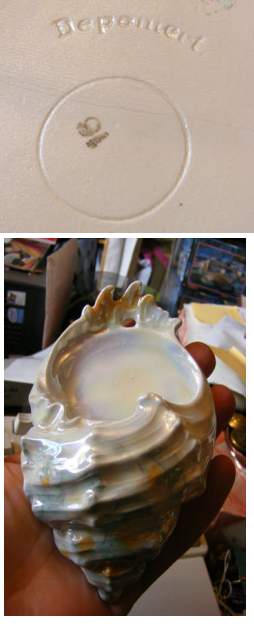 The mark looks old - the artwork doesn't. These types of neat impressed marks are quite tricky to produce and often indicates a better quality older maker. Modern Far East mass-producers would find this kind of mark hard to do.
I don't know if this Deponiert mark was from Royal Bayreuth, but sellers seem to classify it as such.
Peter