My fabulous 1940's vintage walking pair of man and woman figurines
by UK Lynda
(Gloucestershire, England)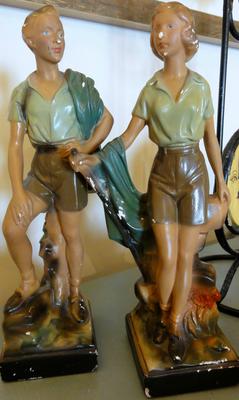 vintage walking pair of man and woman figurines
Hi Peter and all


Thanks for a lively and interesting website...
I live in the Cotswolds in Gloucestershire, England and love scouring the charity shops, car boot sales, auctions and antique centres in our small, historic towns and villages.
I'm always looking for unique, eclectic vintage treasures with loads of charm and character. In fact, I enjoy it so much that I've started my own small business, Bredonview Vintage.
I can be found in two antique centres in this area - Gloucester Quays Antiques Centre in Gloucester and Malt House Emporium in Stroud. Talk about having a dream job!
I found this wonderful pair of vintage walkers at a charity shop in the medieval town of Tewkesbury and fell in the love with them. They remind me of characters that have stepped out of the pages of a classic 1940s romance novel. They evoke an air of a simpler time gone by.
I would love to find out more about them. There are no stamps on either of the bases; however they are each backstamped with serial numbers.
I've done my usual research online but have had no luck. Any information you can give me on this fabulous couple would be very much appreciated.
Thank you.
Lynda