mysterious dresden figurine with unusual stick figure impressed mark plus 2709
by fleonkwestor@gmail.com
(shasta california)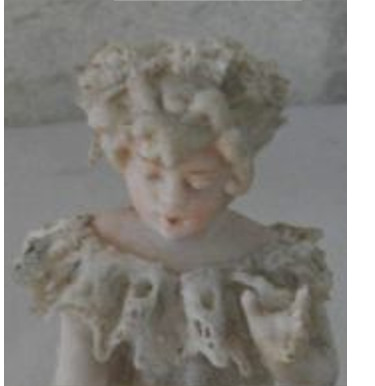 girl child figurine with unusual stick figure impressed mark
Hi there,


I have a dollhouse and came across the most wonderful very old dresden figure of a little girl standing in a flower, not much taller than a bic lighter upright.
She only has her collar remaining and looks to be in her skivvies, but the quality is amazing and I have never seen such tiny delicate fingers nor the tiny face with such awesome sculpting detail.
It seems like a mold that was on its very first run, crisp and sharp. That is why I am curious to know who made her. I come up empty on all the marks sites and not even the german specialty ones are giving a clue.
It is totally impressed in the underside zero color to it hard to photograph. I will have to draw it. Beneath this symbol, is impressed number 2709, in old style numbers.
She is a low-glaze bisque, matte finish but not cold painting etc. This is her pic from my purchase, front and back, and my drawing of the upside-down Y mark almost looking like a stick figure.
This is my fifth search on the net tonight, Ive given up several times, must be an uncommon one. But definitely dresden and germany of a very fine maker.
Dollhouse hobby has its origins with queens and royalty. Did you know that? It seems that instead of furnishing one castle and then another and another, that the nesting decorating urge was taken
out on a cabinet instead.
It goes back to the middle ages and is an interesting hobby. It's also why I got this very small little fairy child.
I hope you have seen this mark Peter, because mysteries bug the heck out of me and this one has no solution for quite a while now. :)
Thanks for any help! Volkstedt, Rudolstadt, Meissen are all fine, but the fingers on this little person are phenomenally eeny beeny fantastically delicate and separate, which I am sure you appreciate being into sculpting, as I am also.
Thanks Peter, and anybody out there!
This attached mark is impressed fairly deep and very clear, not faint.
---------------------------
Reply by Peter (admin)
This one is a mystery. I only saw one mark even close to it in my reference books - and it was the other way up attributed to the very old Royal Spanish factory of Buen Retiro used 1759-1808 and I doubt there could be any connection as none of the wares from this factory would be around in general circulation. I would suspect the marks from Buen Retiro from thios period would be hand written without a number, although I have never seen an item from this factory and can't find any informaiton on their markings to verify. The wares during this period would be soft paste porcelain.
So let's hope we can get some information once people start to find this thread.
Best regards
Peter