Mystery striped triangle stamp on base of Dragon figurine
by Judy
(Brighton, UK)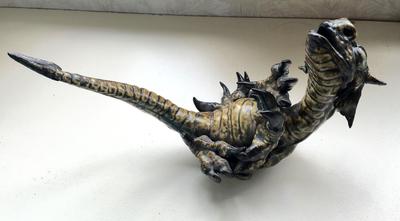 Dragon 1
Hello and thanks for reading this!


I do hope you will be able to shed some light on my much-loved Mystery Dragon's origins.
Firstly a bit about me.
Two years ago I came back to live in my native England having spent 36 years in the Middle East - 18 years in Bahrain followed by another 18 years in Egypt.
Though I thoroughly enjoyed my years as an expat, seeing and doing things I never would have done had I stayed in Britain, it's lovely to be home.
Evrn though I never had to cover my hair and was able to drive, work (and enjoy a glass of wine!) I was always mindful of being a guest in a foreign country, so now I find that it's rather nice to be back home.
One of the most important rules of living abroad is to at least learn the basics of the language of which ever country you're in.
Arabic isn't the easiest of languages, but over the years I learned to muddle along - making lots of mistakes on the way! - and got to the level where I was automatically thinking in Arabic.
On coming back to England I had to remember to answer in English when someone spoke to me in a shop, though I did forget on a couple of occasions and received some rather odd looks!
I'm an artist and have - amongst other things - painted murals in the palaces of Bahrain and held two painting exhibitions in Cairo.
I also took the opportunity to do a silver smithing course and for a while made jewellery.
Currently I'm mostly working on animal portraits, in particular cats.
I've been lucky enough
to get several commissions and right now I'm painting a picture of two beautiful Tonkinese cats who were bred by a lady in Somerset.
I was delighted to recently have been voted in to become a member of SOFA (The Society Of Feline Artists).
This means that each year I can exhibit at their annual exhibition in London in September.
This dragon figurine in my photos caught my eye around 20 years ago, in a small antique shop in Cowes on the Isle of Wight (for folks living outside of the UK, that's the small island off the southern coast where I was born).
As someone who is a lifelong dragon fanatic as well as an admirer of anything quirky, this little guy really pressed all my buttons!
I actually began my collection myself when I bought a cute little orange porcelain pig at a jumble sale when I was about nine years old and it's all grown from there
I have two large glass-fronted cupboards containing all my "treasures" - almost two hundred little pieces which have been birthday and Christmas presents from my two daughters and the rest of my family over the years.
A drawback of living abroad is that nobody can give you a large gift owing to the difficulty of getting it overseas, which is how my collection of miniature ornaments has evolved.
Almost none of my pieces are worth very much in monetary terms, but I can remember when each was given to me, and their sentimental value is huge.
So - fingers crossed that one of you lovely people who have looked at this will be able to shed some light as to where my dragon was made.