Old Round Brown pottery bowl with B57 mark on base and relief flower pots each side
by Elizabeth
(Washington state)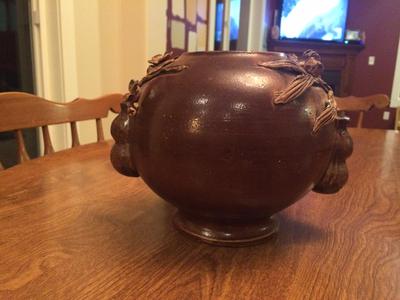 Old Round Brown pottery bowl
Hi!


Well, a little bit about myself, I've always liked picking up various treasures here and there and always imagine myself finding that priceless item. Lol.
My favorite items are typically paintings. This is my first time finding pottery I thought was worth buying.
I found this and another piece I plan to ask about at another time at the Goodwill. I know nothing about the history. There were some neat pieces of furniture and other things that made me think that someone donated a lot of stuff from a collector of art's house recently.
My greatest challenge has obviously been identification since I can't be sure what the marks are.
The finish on this piece is slightly rough. There are raised flowers and stems on each side. On one side, the flowers are buds and on the other side, the flowers are open. It seems almost rustic
So far, I have tried to google what I thought the letters said which was B57 and then the other mark looks like a lowercase b and a 1 or a reversed 2 and a 1.
I also googled about the kind of pottery I thought it was, earthenware?, and also various keywords of the description.
I was not successful.
If I find out more about this item, I would hold onto it unless it was very valuable. I do enjoy the piece and find it attractive. I regularly search for information on things I pick up but this is the first time I've had pottery and the first time on this site.
Thank you for your help!
Elizabeth