oriental pottery mark query - backstamp image
by Christopher Kennedy
(Toronto. On, Canada)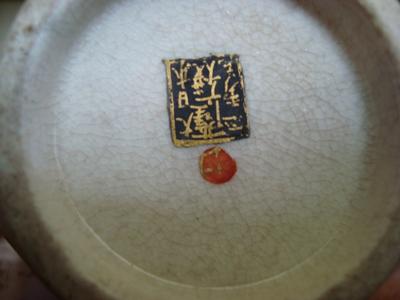 oriental pottery mark query - backstamp image
Vases from grandparents, hope you can help...


I searched for weeks for anything resembling this, and the closest thing i found was the Satsuma mark, only it is a red mark.the vases are octagonal, 5.5 inches tall,2.2inches wide, and the scenery portraits are the same but reversed on each,except the clothing worn by the figures is different.
thanks again so much.
thanks
christopher kennedy
=================================
Reply by Peter (admin)
To oriental pottery mark query
Hi Chris
=====================
***UPDATE***
=====================
Big thanks to Scott who posted a reply in the comments section (see link at bottom of page).
To summarize, Scott says it's Japanese Satsuma indicated by the crackle glaze, the dotted decoration called moriage (not unique to Satsuma - just a pointer) and finally the mark - above the mark is a red circle denotes the Shimazu family - the mark below possible being Hododa. Maybe dates from around 1900.
=====================
***END UPDATE***
=====================