Pair of Japanese Ornate Oriental Red & Yellow Foo Dogs (lions) with oval impressed pottery mark stamp
by Fred M Estep
(Jacksonville, FL USA)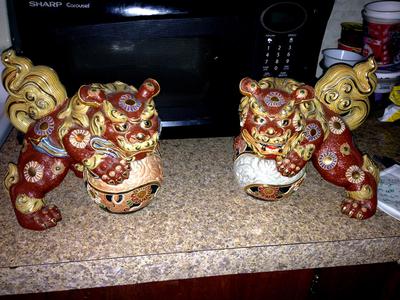 Pair of Japanese Ornate Oriental Red & Yellow Foo Dogs (lions)
Hi Peter and fellow visitors to this wonderful site.


Indecipherable Japanese oval impressed pottery mark stamp
I am ministry leader at my church, doing this research for an elderly bed ridden friend that is financially challenged at the moment.
She has 2 mirrored red, ceramic/porcelain foo dogs (lions?) purchased by her father in Japan around 1954, she was a child at the time.
She is wanting to sell them to pay property taxes this year. Anyway I have rattled my brain trying to find a way to value them, I have no local resources for this.
I do not want to over value them so that she has a chance to sell them on the same hand I don't want her to be ripped off either.
She said at one time an appraiser told her they were worth around $800.00. (I don't have a clue.)I have posted on a couple of websites, Asian Art & Instapprasial, so far but no responses.
These figures are about 10" high at the tail & about 10" long, the balls are about 5" across. These figures weigh (guessing) about 3-4lbs each. My latest venture is to try & identify an imprinted marking on the bottom of one that the felt has been removed from, of course to no avail so far.
If any one can help me to at least get a ball park figure I & she will be graciously appreciative & will pray God's blessing upon you & your family members.
Attached are several photos of the figures as well as the marking. One photo I tried to enhance to more readily see it.
Thank You,
"Hopeful" Fred M Estep