Pottery China Plate Mark Identification 'U.S.A.' Within Round Circular & Water Fountain
by Kate
(Ventura, CA, USA)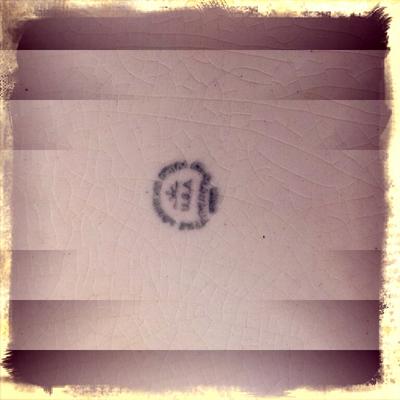 Pottery China Plate Mark Identification 'U.S.A.' Within Round Circular & Water Fountain
Pottery China Plate Mark Identification 'U.S.A.' Within Round Circular & Water Fountain:- I found this plate at a garage sale of a woman who used to have several antique stores in Oxnard, CA. She didn't seem to have any further information on it. It is thick, crackled and has texture in the plate's surface, where parts of it are raised around the edges or it sort of flutes on the interior edge of the plate. On it are trailing flowers in blue (bachelor's buttons?, and pink with green vines that appear to be hand-painted though each side is perfectly mirrored but they look like they have texture and brushstrokes. I'm interested in both the maker and the age if possible.


I can see U.S.A. clearly on the mark in the center but the rest is fuzzy, no matter whether I blow it up or not. Actually, when I look with a loop it appears less clear. It may also say "The _____ and Stitch" on it? but again, I am guessing because it's so illegible.
It also has a gold rim around the edge and there is some symbol above U.S.A. but I can't tell if it's an odd sort of crown? or water fountain, flourish? The hallmark is done in a deep teal color.
Any help so appreciated!!
Thanks in advance.
Kate
==================================
Reply by Peter (admin)
Hi Kate
Interesting submission, thanks.
I have a book called '1000 marks on American Pottery and Porcelain'. I looked through every single mark in this book but unfortunately could not find this particular mark, or anything quite like it.
All I could do is see who tended to use round marks and see which names could fit the blurry mark.
Could "The American Pottery Co." fit the top semi-circle of words? Would 'Jersey City NJ' fit the lower block of writing? There is no way of me telling from the image, although I did try to enhance it as best I could.
Let me know and we'll go from there.
Thanks
Peter (admin)