Pottery Mark Query - Fish with an Arrow Through it
by Maggie Honkisz
(Ottawa, Ontario, Canada)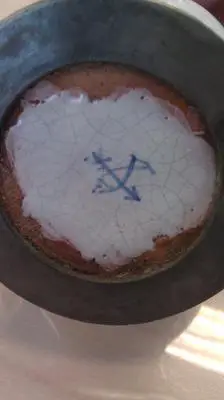 Pottery Mark Query - Fish with an Arrow Through it
In the early part of the 20th century, just before she was born, my grandmother's family moved from Poland to France where they lived until the end of World War 2. Shortly after the war ended, my grandmother, still a young girl, was sent to Austria to live with another branch of the family where she attended a school in Vienna.


During her time at the school, my grandmother became the teacher's favorite student, and when the time came for her to leave the school, her teacher gifted to her a few beautifully crafted pieces of pottery; a small vase, two plates, and a large bowl.
These were the first pieces of what would later be an impressive collection of fine, decorative pottery.
My grandmother spent a few more years living in Austria before she and her oldest sister made the move across the Atlantic Ocean to Canada to start a new life with a more promising future. For this journey, she had to leave most of her belongings behind which included many of her favorite pottery pieces.
She managed to safely bring only a few of the smaller pieces with her which, upon her passing, were passed down to my mother, and then to me.
After all these years, I've decided to look into this part of my grandmother's past to gain a glimpse into the world she grew up in.
I've looked through family photo
albums and the few boxes of other keepsakes she still had from the Old World, but nothing quite piqued my curiosity or embodied my grandmother's spirit so much as these pottery pieces, the origin of which are still greatly a mystery to me.
I'm hoping this forum can help me identify the maker's mark so that I can learn a bit more about these items that so fascinated my grandmother.
Maggie
===========================
Reply by Peter (admin)
Dear Maggie
What a wonderful telling of a wonderful story. Thanks for that.
This mark looks like one that, if I were an expert, surely it should trip off the top of my tongue just like that. Well, sadly, I am not an expert and it doesn't.
However, I have quite a few pretty good reference books and I am no slouch at Google-Fu either, but there is nothing on this mark at all. It looks as if it should be one of those famous old easy to recognize ones, but there is nothing, just the sound of tumbleweed.
There are a few fish marks, both old and new, but nothing in what I would describe as this old Germanic style of blue hand-drawn linear marking.
I hope to set up this thread in order to score yet another identification victory when a clever person comes along to enlighten us, but until then, just keep an eye out for replies.
Peter (admin)