Query mark on T. F. & S Morocco Plate "SUNNIVAL"
by Samantha
(Totnes, Devon, UK)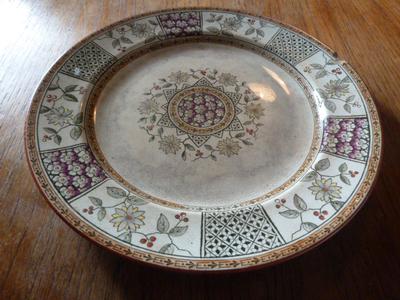 Morocco Plate topside
Hi everybody - well I've been spending an awful lot of time on here searching for various maker's marks and eventually felt brave enough to add one myself.


My name is Samantha and I'm in England, UK - I'm part of a two-person team that sell on eBay. My daughter and I started a second-hand clothing site July 2011 and then diversified (that the right word?) into antiques, furniture and brick-a-brac items this year (2014) when eBay upped their fees etc.
It has certainly proved a more interesting employ but we're still yet to make a cent! I have to say for once in my life I adore my job and it's handy as I am a single Mum and can work from home or drag the kids to the thrift stores and auctions with me.
So - to the plate - it came with a bundle of goodies at an auction last Saturday, probably from a house clearance - we gather this from the amount of collector's plate and bits and bobs included with it. It is going online obviously but money isn't the object as we always start such items for about £1 and let the buyers decide what it's worth - however I find these marks intriguing.
It's a T.F.&S Morocco so I gather it's from Thomas Forester (before the sons so it's very early?) but there is an impression that I can't quite make out and it would seem others can't either. I've found another seller on eBay that has/had one and said he thought it said ...OENIVAL but I'm thinking it's "SUNNIVAL". Can you help? It won't make any difference to the price as I said and it might well be sold by the time someone solves the mystery but I'd really just like to know more. I have searched SUNNIVAL - SUMNIVAL - EURMNIVAL too but with no joy - oh and there's a number 14 stamped above it and what looks like a ?P beneath it. (I've lost my glasses that I only just started having to wear recently so it's extra difficult and my daughter has always had bay eyesight anyway!) :)
Hope I've typed enough - have probably typed too much - and look forward to hearing from you soon.
Loving the site by the way - I use it most days ! :)
Thank you.
Samantha
Rivey's Space
www.ebay.co.uk/usr/riveysspace2013