Royal Vale help
by Sarah
(Dublin)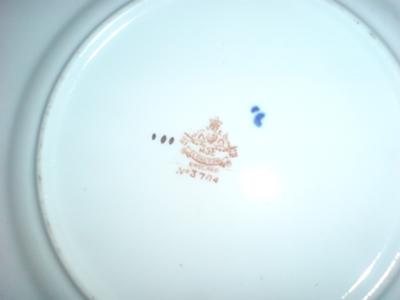 Hi Peter,


I have a 21 piece tea set, some pieces are marked royal vale china longton with the crest and some with what looks like HH and co, that I have found is actually NH and C with the man on the toilet. The pattern no is 3704.
I have tried the replacement site , ebay google etc as suggested but I haven't been able to find mine , the closest I have found is pattern 3702 which is similar colouring, my set has golden butterflies and other differences.
I would try your other method ,but I have not got a credit card to get it valued or examined online.
There is 1 saucer replaced (by previous owner) with a similar avoca piece , and I would like to correctly replace it.
I am also thinking about selling it as is ,but as mentioned cannot really find very much about it online, and would like to know more to try and get some idea of a selling price.
Any advice would be greatly appreciated.
I include pics of the 2 different markings , and of a plate from the collection.
Many thanks in advance
Sarah