Royal Vienna Porcelain Vase Wing Pottery Mark in Red/Brown Saying Austria
by Jeanette
(Mt Holly Springs, PA)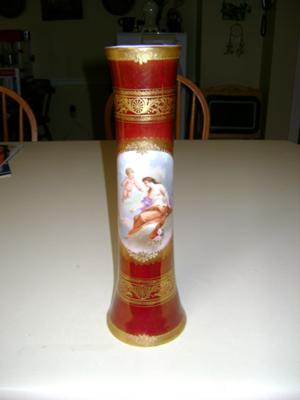 Royal Vienna Porcelain Vase Wing Pottery Mark in Red/Brown Saying Austria
Royal Vienna Porcelain Vase Wing Pottery Mark in Red/Brown Saying Austria, Help! I love the challenge of identifying a backstamp, but this one has gotten the best of me. It is faded but still has distinguishing features. I received this as a part of a collection of Royal Vienna for consignment. The other 2 pieces that were chargers, were a snap to identify.


Not this one!
I have searched your site, plus all the other sites (I don't know why, this is the best site ever!)and all my books. I deal in Pottery, china, porcelain, ironstone and such and I am embarrassed that I can't identify this mark!
I wish I could just let it go, It is a beautiful vase and I could put a value on it and be done with it. I pride myself in being able to provide good values with Great descriptions and it pains me to have have to add the word unidentified! I have done it before (once) and I just didn't like it! I feel this piece is too important not to do everything I can.
Well here is the description of the vase and the mark.
The Vase:
12 ½" tall, 4" base and 2 ¾" opening
Gold inlay over a reddish brown color with raised jewel pattern signed by Chloris
The Mark:
has a red insignia that
resembles a dome or rounded crown with a cross on a set of wings over the word "Austria"
I thank you all for your time and consideration!
Jeanette
================================
Reply by Peter (admin)
To:- Royal Vienna Porcelain Vase Wing Pottery Mark in Red/Brown Saying Austria
Hi Jeanette
You sound like a super-sleuth, so welcome to the site and you are at home!
The first thing is I can't really see your mark, so it is hard to help without a close-up photo.
Could you send in a close pic to
peter@theclayartist.com
I looked up Chloris though and weirdly, Chloris is the classical Nymph depicted in the photo, not the artist. This same picture is repeated with tiny differences again and again (the signature always remains the same in the same place) on Vienna style items from several different makers - for example,
RC Bavarian
Josef Riedl
A pair of Dresden style vases, one with your image, and one with a different nymph signed 'Juno'
Josef Riedl may be a clue to who the mark might belong to. With your sleuthing powers, check out these factories for your mark:-
Josef Riedl
Moritz Zdekauer (MZ)
Altrohlau
These I think, were interrelated factories with various similar winged marks, and all Austrian.
Please sleuth it up, report back and send in a clearer pic (mark it for this thread). Thanks.
Peter (admin)
=================================