Set of 6 Cups/Saucers ?Georgian Era? "5 red dots" Marking
by Hilda Hayson
(Franklin TN USA )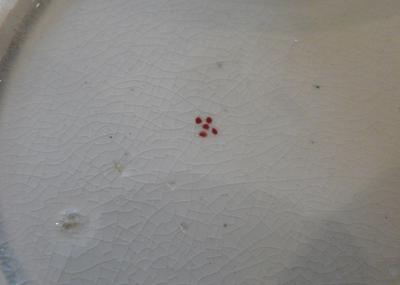 "5 red dots" Marking
Good Evening. I just found your website while trying to find clues to the background of my china cups and the back stamp. I found six matching cups/saucers on a dusty shelf, buried and forgotten, in a junk store in Nashville, about a year ago. Probably not extremely valuable, but in their own way, beautiful survivors of time and unknown circumstances. Based on my experience I know these have to be old. I could imagine Thomas Jefferson using these while reading his evening paper. I love Georgian/Federal era antique china, glass and silver and I love treasure hunting. One of my other favorite pieces is a poor little deep dish saucer, beautifully hand painted with tiny flowers that make a monogram design in the center and back stamped with the Royal Vienna beehive. The real one. It was broken and poorly, though probably lovingly, re-glued but it is still beautiful. It is true Royal Vienna and the impressed back stamp date was dated to 1789, the year of our first Presidential Election in the US and the date Mary Antoinette met an unfortunate end. The Royal Vienna Factory was under the ownership of Austrian Empress Maria Theresia, her mother. Makes one wonder how this came to be in Tennessee, how and when was it broken, who owned it and why was it "saved"? I feel like I am rescuing art forms, and the hard work of some unknown artist, that could end up broken, discarded or under appreciated. I have over the years collected so many things... alas my poor husband said "some have to go if you want to buy more". So I became an antiques dealer and, sometimes begrudgingly, sell some things to finance buying "new things". Antique hunting has provided such an education about people, places and the history of so many items we take for granted. I am now researching sailing history i.e.: "The Cutty Sark" because I think I have the c1860's Glenock Scotland silverplated Whist "Winners" Trophy the designers/owners passed among themselves each year. I love using an antique item and marveling at how it was made, the workmanship and talent that went into it. How difficult it must have been to acquire the resources in the 18th century colonies. I marvel at the skill and labor that went into it. Can you imagine blowing glass in the 18th century by firelight & oil lamp? How many broke before a successful one was made? I wish
a course on antiques had been taught in my High School; it would have made me much more interested in history! My mystery piece is a set of six cups/saucers with blue and white applied printed design. The design looks to be "folded over" into the inside of the cup. Based on the irregular placement of the print, the design of the cup, the crackle, it looks OLD to me. Unlike the Royal Vienna piece, this set looks, hand made yes, but mass produced and "quickly" done. Not your "fine china". The cups do have handles and are 3" tall x 3 1/4 (approx) diameter across the top. The saucers are about 5 1/2" diameter. Not the dainty little things made just for the ladies but definitely a period tea cup that the "man of the house" would feel comfortable handling. Were these made in England or China? Can you imagine, these cups arrived in America on a wooden SAILING ship? The only mark I see is 5 red dots in a square like on dice. A couple of the saucers also have what looks like an impressed 13 in the body. I am not sure how early potteries were using decal printing in lieu of "painting" glazes for decoration. I have a bookshelf of books and searched the internet, I can not find a back stamp of just 5 red dots. On another note, I collect Georgian and Early Federal Brooches as well as some Victorian. I just started designing jewelry in which I incorporate (without damaging them) these into beautiful necklaces that can be worn today. I am FabulousFamilyTreeHeirlooms and will be posting some of my creations next week or so when I finish putting together a collection and photographing them (and when I fix the website photo problem.) It seems a shame to have these beautiful objects just stored away out of sight when they could be worn but ladies don't seem to wear brooches that often today. We have also launched Burwoodhall Country Estate B&B Thompsons Station TN on our 12 acre farm. I built the house after Mount Vernon and similar Federal Era Buildings.
Hilda
-------------------------
Reply by Peter (admin)
Many thanks for a wonderful contribution.
I think these look 19th century - or possibly early 20th century.
As for the marks, I don't have anything on the 5 red dots just yet. I feel we may hopefully get some information on this.
Best regards
Peter (admin)