Set of three figurines. WG or GW Below crown/coronet?
by Mike Glover
(UK)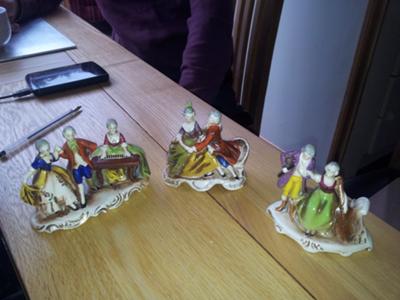 Set of three figurines. WG or GW Below crown/coronet?
Set of three figurines. WG or GW Below crown/coronet?:- This set of three figurines, representing a musical evening of some sort, has sat on my mothers dressing table for as long as I can remember. She was married in 1941 and my understanding is that they were a wedding gift to her. My mother died in 1964 and more recently my father died and I have no information about their origin.


One figurine consists of a man and lady dancing with another woman sat at a keyboard.
The second one is a courting couple sat on a chaise longue. The third consists of a lady holding a cello and interlocking her other arm with a gentleman standing alongside her.
All three are on white bases with a gold swirling gilt detail.
Underneath the three figures. They have imprints which are:
GM followed by 582, another is 584 and the third has 586. They also have a blue/green painted logo of a basic crown over the letters GW or CW.
Unfortunately I do not have any other information to assist in the identification of these figurines. As you can see from the photographs, the style of clothing seems to depict the time of Mozart and they all appear to be wearing wigs.
I would appreciate any further information anybody may have on these objects of sentimental value.
Thanks in advance.
Mike
===================================
Comment by Peter admin
To: Set of three figurines. WG or GW Below crown/coronet?
Hi Mark
You have some early 20th century figural groups from a very famous German maker - Goebel, who went on to launch the Hummel children collection in 1935.
These figures (like the Hummel figures themselves) vary in value depending on their 'desirability' to collectors. Sadly, these lady and gent figures don't appear to me to that highly sought after at the moment, when I checked at past auctions. But don't quote me, I am not a valuation expert.
Here is a chart to help date Goebel marks.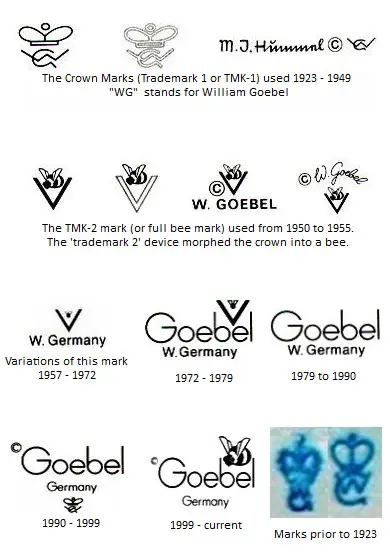 The Crown Marks (Trademark 1 or TMK-1) used 1923 - 1949 "WG" stands for William Goebel. This mark was used on the famous Hummel figures from their launch in 1935. The same mark had already been used for 12 years before the launch of the Hummel collection. Some online references incorrectly date this mark from 1935 which is incorrect. Before 1923 was was a similar crown, but not so wide.
The TMK-2 mark (or full bee mark) used from 1950 to 1955. The 'trademark 2' device morphed the crown into a bee.
The images show the progression of the Goebel mark from 1955 - 1972, to 1979, to 1990, to 1999, to current.
Interesting figurines from a highly collected company.
Peter