Signed by an alien? Illegible little old luster pot
by Linda
(Fulton, MO 65251)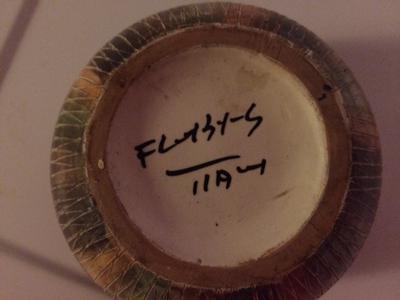 Signed by an alien? Illegible little old luster pot
Hello, my name is Linda.


I'm a teacher in Missouri and have had this silly little pot for many years. I'm not totally sure, but I think I got it from my mother (who is a "collector" of many things !
I loved the pot because it had little gold strands throughout it – and I thought it would be the perfect little pot to put flowers, change or anything into it.
I've often noticed the illegible signature on the bottom of the pot and often wondered – was the artist drunk when he signed it – because it sure is hard to read! Ha ha.
However, maybe it was a flamboyant artist who hoped to be famous someday and have that unique signature that would be recognizable by the art world! Poor guy/girl – stuck with just a funny signature that doesn't have much meaning to anyone – at least not me.
I also liked the colors – they are unique and at the time, I had some of these colors in my home.
Now I'm downsizing – the kids have grown and are gone – and these little items scattered throughout the house – that have no meaning to me – need to go.
But before I tossed it into the Good Will box, I thought I would try to find who this interesting, tipsy artist was – and do they have more pots running around the world!
I've tried to toss it into that box for years, but something kept me hanging on – which is odd since I rarely hang on to anything – unless it has a deep sentimental value.
Perhaps this is from a long, lost grandmother who haunts me from heaven to hold on ! hold on ! hold on to that valuable pot. Ha ha.
I've often thought of trying to find out who signed the pot – and yet children, jobs, graduate
work, etc always got the better of my time and energy.
Although I've never had a huge interest in pottery or art (I got my first B as a child in ART – it must have marred my self esteem forever) – however, I have a huge appreciation for those who have that artistic ability and share their items with the world.
Some of my friends are artist – and at our college we even have a pottery/ceramics class. Somehow I have never taken the time to take the class – and I imagine my pot would probably be a wobbly, awkward, unusable piece of blob – when all was said and done.
Thank you for taking your valuable time to try to figure out the mystery. Who knows, maybe a child created this pot and signed it as best he know how.
Maybe it was a small French girl from Paris, who took a class and created this beautiful pot – that got lost through the years and ended up in – in Mid Missouri – in a small town called Fulton.
In any case – if we find there is no link to anyone – I will try my best to pass it along so another person can enjoy the pot as much as I have over the years.
Beauty is honestly in the eye of the beholder, but the small gold strands throughout the pot have always caught my eye – and I hope they will catch the eye of another.
And yet, I love flowers and may even hang on to the silly pot – and plan another beautiful flower in – to be appreciated throughout our beautiful summers.
This paragraph has got me wondering – so if I hang on to it – I will dream of the artist who meticulously took the time to create such a beautiful piece of art.
Thanks for all your help!!!
Linda