Star shape mark with letter S Made in England
by Sue
(London)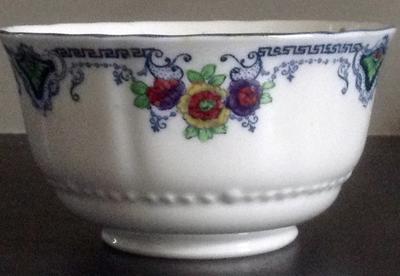 Bowl
Hi Peter,


I'm hoping that you and your amazing forum can help me ID a back stamp on my bowl. I have a star shaped mark with an S in the centre which I can't find anywhere.
I love collecting blue & white china and found this one a few year ago at a collectors' fair, but the stall holder couldn't tell me anything about the mark. I've looked at Spode & Caughley, who both use an 'S' on their china, but they don't have the star design. I've tried to think laterally and searched for eight-petal flower, or sun, or compass... but nothing there either! I've also considered the possibility that the 'S' is a '5' - but still no luck.
Looking at the design, I think it comes from the first half of the 20th century, possibly Edwardian, do you think?
If you are your readers can throw any light on my search, I'd be extremely grateful!
Thanks,
Sue
===========================
Hi Sue
Nice contribution, thanks. I looked through all the S marks in Goddens (the best guide to English marks I know), and could not find this mark.
The only thing close to it was a circular star mark by Joseph Stubbs and Stubbs & Kent of Longport Burslem 1822-1835(with no S in the middle and only 6 prongs on the star). Goddens info was sparse on these two companies.
So maybe check out their marks if you can find anything.
The dish could fit that earlier date in terms of style but not mark, as country of origin was not required back then.
Best regards
Peter