Studio pottery mark "h" inside parallel lines "Hindra" or "Hinder"
by john
(maryland USA)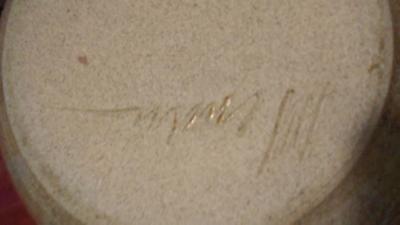 "Hindra" or "Hinder"
I won this item at an auction in Virginia. I dont know much about its history. it is a set of : Soup tureen with ladle and 8 bowls and plates. It looks really nice and I think it looks like some other designer pottery that I saw a few months ago by Teruo Hara, the way the pottery is streaked.


Hara lived in Warrenton VA and that is close to wear I purchased. I doubt that they are designer stuff though as they dont seem to have much weight to them.
Searched on google and ebay. Then I tried inputting the "h" insignia into sites like Kovels and also this sight. The greatest challenge is figuring out what the letters spell.
It seems to say "Hindra" or "Hinder" but that does not come up with any makers of pottery and/or china. Am totally frustrated trying to fiugre out who made it and of course if its worth anything. I have never been to this website.
my store on ebay is called J.D's fine arts. When I figure out who made the mark I may sell it or I may give to someone as a present. It depends on valuable the piece is.
I started selling stuff on ebay about two years ago and didnt have much luck at first. I was trying to sell faux jewelry and clothing which I was getting good deals on from a locale thrift store. But that stuff is hard to sell.
Clothing really needs to be very trendy and preferably have a nice label on it as the buyers are pretty particular about they want and your clothing needs to stand out in some way in order to be sold on such a large market place as ebay.
The designer jewelry was real frustrating as well because I sold one piece from the 1960s right off the bat. Then I learned a lot about faux jewlery from some woman I met on Reddit. So I learned all about the best marks like Trifari and kenneth Cole and bunch of others one I forget.
I found a lot of this stuff at estate sales for like a dollar a piece and tried to sell the stuff for 20 or $30 but nothing happened. THe woman told me her in laws were into it and they used to have a real big practice selling stuff to Russia as they love the very gaudy pieces.
But I guess the economic situation there is not as good as it was and anyhow I couldnt find anyone to buy it. Finally I put the whole collection of about 40 pieces into one big package deal and sold it for $25 on ebay. Just wanted some one to take off my hands. WHich they finally did.
I finally had some success selling posters I found at auction and then reselling them on ebay. Historical posters and museum posters and stuff like that.
I started out just looking up the names of the artists and such and then I learned how to determine old antique valuable pieces from the more recent knock offs. Of course
as a lot of people know you look at the very small details of the printed art and you look to see if there are dots. Dots are technically known as half tones and they are how modern printers print posters.
They use a whole lot of tiny dots which vary in size and in one of there basic colors so that by varying the size of the dots you can produce half tones, which are lighter and darker shades of a color and at the same time you can vary the color patterns in order to produce many different colors. So like a couple of yellos and a blue dot will produce green.
The good vintage posters are not made that way. Typically they are lithographs or etchings and such and instead of little dots you will see continuous lines of color because it is printed from a plate that might be etched with a tool, or it might be etched by using chemicals and a mask. The mask is printed form a phot and then it is treated with chemicals so that the chemicals will etch a pattern on the plate that matches the photography was imprinted on the mask.
You might also see dots on old posters. This part of another type of process but these dots are not uniform in color they can be larger or smaller and this means the poster in question is still quite old and probably authentic. They are known as "Ben Day" dots from the guy who was one of the inventors of the process. Posters from around the year 1900 might use this process and you can then determine if they are real or not. I forget the name of this process . So it can be real confusing if you are starting out and you see these dots and you'rre not sure if that's a real authentic poster or not.
Lately I have gotten into finding ceramics and chine. I really dont know much about them. other than to look stuff on ebay and google and then to buy it if the price is right.
But I have bought and sold two sets of decorative plates recently so this is a field I'd like to continue to work in and find nice stuff.
John
---------------------------
Reply by Peter (admin)
Otto Heino Style Streakware
Hi John
Thanks for sharing your fascinating story. I enjoyed reading it.
I am not sure who or where the "Hindra" or "Hinder" pottery is - but I suspect a local US art potter. But what I do know is that although it may not have much weight to it, I do think it looks like very nicely made art studio pottery set.
These types of art pottery studio potter marks are notoriously difficult to identify and in terms of value the price really depends upon the notoriety/reputation of the potter.
So a not well known local artist's work with a set like this could go for a ridiculously low as $50 USD, whereas if it was the streakware of
Otto Heino
it would be worth over $1000.
Best regards
Peter (admin)