Tea Set with Blue Crown and ornate letters LS? underneath
by Zoe P
(Stockport, Gtr Manchester, England)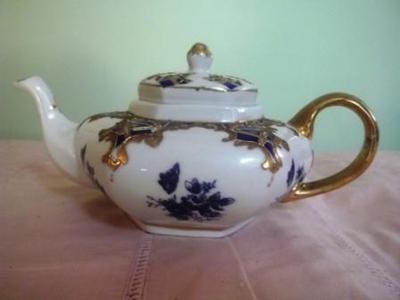 Tea Set with Blue Crown and ornate letters LS?
Hi Peter and everybody, if anyone can assist in easing the obsessive frustration at not being able to find out more about this mark, I would be very pleased!

A little about me, I'm Zoe, 44 from Stockport in Northern England. I have always had an interest in items from the past and was often found rummaging at Jumble Sales, which are pretty much extinct now! I was also captivated by my Gran's jewellery, clothing and even her old trellis sewing machine from days gone by.

Anyway for about the past 10 years I have been collecting vintage items from local charity shops and flea markets. I am not an expert and just buy on instinct and will buy items that I appreciate even if it is not my personal taste, which really is pretty and floral china or porcelain pieces.

I love coming home and getting online to find out more information about pieces I find, but can be prone to being obsessed if I am struggling to find any information! I am fortunate that I am close to Staffordshire and so there is an abundance of lovely pieces in my local charity shops from that area and there is also lots of information online so those pieces are easy to identify. I do get a bit carried away and find it very intriguing to wonder who owned the items, what kind of lives they lived and that normally leads me on to think about my ancestors that were around during that period of time etc. All in all it's a very pleasurable form of escapism in this harsh modern world we live in!

As I only have a small home, I have recently started selling some of the items I have collected. The decision of what to keep and what to let go has been a bit of a struggle and something that I am still struggling with! However, needs must and I need to clear out some of the excess in
my home. The items that I have left I do like to use with care, my Gran always said "don't leave your China for best", meaning really to enjoy what your best is now rather than waiting for a special occasion, which might never happen!
Anyway the point of my query is that recently I went for a trip out to have a treasure hunt in one of my favourite towns for charity shops (Ashton Under Lyne), which has about 10 shops to mooch around within about a 1 mile radius! So on my last trip up there I bought this Hexagonal Teapot, Sugar Bowl and Milk Jug set for £6 . I can't decide whether these pieces are a cheap repro or whether they are of craftsmanship! The reason I say this is because the pattern on the teapot is of lesser quality in that it is not as sharp as the sugar bowl and milk jug and the colour is a shade darker than the pattern on the other pieces. Also on the bottom of the sugar bowl there is a "blob" of glazed china that looks like it should make it uneven or unstable, which it doesn't, but it is a bit shoddy. Nonetheless I have to say I do rather like this set as it is unusual and I have never seen a pattern like it before and I rather like the hexagonal shape as well. It is not my usual personal taste
As you can see from the photos, the mark is blue and appears to be a Crown, with 2 leaves underneath and possibly the Letters L and S underneath or maybe it is just two ornate scrolls, I really don't know. I have searched this great site and also have searched other places online by describing the mark and also by describing the pieces themselves and have not been able to find anything about them.
If anyone is able to provide me with any more information about this mark it would be much appreciated.