The mystery of the bone china or porcelain violets pattern tea service
by Pat May
(Cornwall, UK)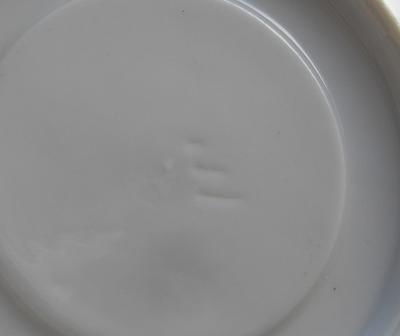 Three embossed lines
Dear Peter


In the late 1970's my mother bought a very pretty bone china tea service. It had 12 cups and saucers, 12 plates and 2 bowls. There was a lovely little milk jug but sadly no tea pot. She had no idea who had made the tea service but it looked good and it sat nicely on her shelves alongside her big collection of Wedgwood.
The tea service had only cost her £5 but she was sure it was old. It had a pattern of violets on it but no maker's name.
The tea service was bought from a market stall in Surrey, UK. The person who sold it had no idea where the china had been made nor how old it was and neither did he care. He just wanted to make a sale and go home before the winter cold kicked in.
It had come from a house clearance and ended up on his stall amongst a lot of knick knacks and household goods. This was fortunate for my mother who knew how to snap up a bargain and she arrived home absolutely delighted with her find.
Then the search for the maker began. My mother searched all her reference books but nothing could be found. There was no internet to help her in those days and so in the end she gave up and enjoyed her china whether it was old and valuable or modern and cheap.
In 1994 my mother died and her large collection of china was passed down to me. Some of it I was able to display in my own home. I put some of the lovely Wedgewood in a cabinet but I just didn't have room for all of my mother's china as well as my collection of jugs and ornaments.
I did have a look at the china in the collection and identified some of it but the violets tea service remained a mystery.
I scoured the books for any clue as to who the maker could be. I didn't want to sell
it or give it away until I had found out something about it and so I did one of the worst things possible. I wrapped up the tea service and put it in the loft and there it has stayed for 20 years!
Last week my guilt got the better of me. I crawled into the loft and unwrapped it all again and with the benefit of the internet and the power of Google I was sure I'd find the maker in no time. I was wrong.
I looked at hundreds of images of bone china with violets on it and hundreds of images of impressed china marks but none look anything like the tea service I want to identify. It's a real mystery and I'm hoping someone somewhere can help to solve it.
To me the design looked as if it might be Victorian. It's certainly in the Victorian style but there are many tea services in the UK with similar designs. Some are simply modern copies and have little monetary value.
This tea service my mother thought may be quite old. It is made from a bone china that is so fine you can almost see through it if you hold it up to the light. It's also larger than most modern tea services. Usually you find only four or six place settings in a modern set.
As for the marks themselves. On the base of the saucers there are either three impressed lines or a reversed impressed tick or one impressed line. On the base of the bowls there is an impressed cross. There is nothing on the cups or the plates at all.
I've included a photograph of the three lines on the base of one of the saucers plus a picture of the whole of the base. There is also a photo of the saucer itself showing the violets pattern and also the cup and saucer from the set. There is nothing on the cup.
Can you help to solve the mystery of the violets tea service?
Best regards
Pat