Thinking Japanese Pottery Mark Maybe?
by Neil
(London, U.K)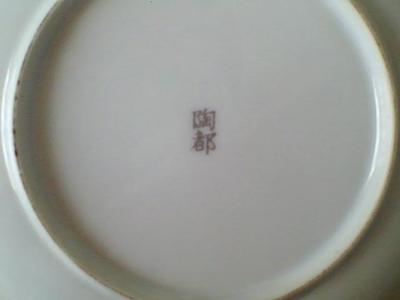 Thinking Japanese Pottery Mark Maybe?
Thinking Japanese Pottery Mark Maybe? Hello, can a minor sibling dispute possibly be resolved please? We found this plate in the loft measuring 6 1/4 inch x 6 1/2 inches. With a little research we believe it to Japanese.


I think it was made 'yesterday' my Sister Sarah begs to disagree. We found that one of the marked characters 時 to mean time in Japanese, that is all we could translate.
These markings seem to be a transfer and not written by hand. Not a good thing in the case for this being antique.
The pattern feels raised so surely this hints at its modern day making? There is a gold ringed edge to it and being sceptical again is this just cheap paint?
I am someone who enjoys using fine china if it is to be so 'fine'. There is nothing more enjoyable than eating a cookie from a lovely plate.
My Sister wants to lock any valuables away with a key bringing them out only to clean. I am never trusted with the job in case I break them!
We were also wondering are the birds and flowers shown on the plate symbolic in Oriental culture. My bet is they are just pretty drawings made for the export market.
Hope we are not wasting anybodies time with our query. It is satisfying to know exactly what you own and not be ignorant to it. I am not putting it in the dishwasher just yet!
Yours Faithfully,
Neil.
===========================================