This isn't The Godfather! But I have this horses head pottery mark...
by Burelena
(Yakima, Washington)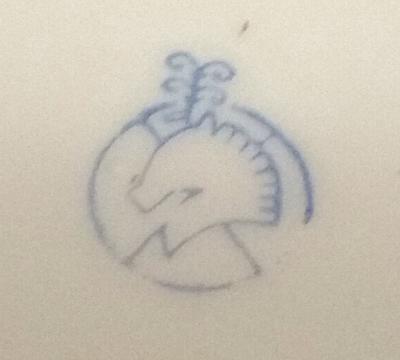 horses head pottery mark
Hi everyone!


My name is Burelena and I live in central Washington. (No, we don't have lush greenery and it doesn't rain constantly. This is the desert.
Yes, Washington has deserts! Who knew?)
I came across this tea cup and saucer at an estate sale. I found it interesting because of the raised designs on the saucer and the side of the cup, as well as the cutout pattern around the rim of the saucer, so I picked it up.
Upon closer examination, I noticed the logo (I now know it's called a backstamp) on the bottom of the saucer and I found that interesting as well, so I decided to look it up to see what kind of porcelain it was. I'm pretty sure it's not actual china because it's not very translucent.
That's where the trouble started ...
I've been all over Google, Kovels, and various other sites (most of which I found here - thanks!) but I absolutely cannot find this backstamp anywhere! I've searched through your questions and unidentified marks posts and can't find it there either.
I don't know if putting in the wrong combination of words to describe it or if this is the one and only piece of porcelain with this particular mark (and wouldn't THAT be nice, because my financial future would be rosy indeed!), but I simply can't identify it! It's been VERY frustrating!
As far as I can
tell, the backstamp mark features a horse's head with a plume or feather on it (and yes, it took me a while to see THAT, because I spent a couple days wondering why this poor horse had some kind of flower growing out of its head!) inside a circle with an X in it.
Or perhaps the circle with the X is some kind of crest. I really have no idea. Hence my trolling of your site and my plea to all of you for some HELP! 🙃
I had originally planned to sell this piece once I found out more about it (I have space at a local antique store) but now the horse and I have kind of bonded because we've spent so much time together recently, so he will probably become a permanent fixture at my house.
Thanks so much in advance for any help you can give me with identifying this piece. I appreciate it!
Sincerely,
Burelena & Maurice the horse
(WHAT?! I can't spend this much time with an animal and not give the poor guy a name! Who does that?!) 😁
-------------------------
Reply by Peter (admin)
Hi Burelena
You're crazy! And we like crazy. Lovely submission, thanks for reaching out.
I don't know this one. I could find nothing either.
So, all you horse head mark owners, please come forward, you know who you are!
Let's do this! (for Maurice's sake!)
Best regards
Peter