Thomas Morris Ltd Crown Chelsea China Red mark
by David
(Cheshire UK)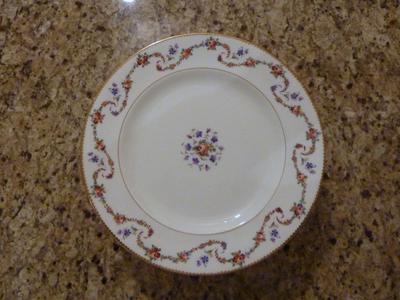 Thomas Morris Ltd Crown Chelsea China Red mark
I'm a 68 year old retired English Engineer. I'm not a specialist collector but I do like quality and older items so over the years I've collected a few nice pieces of china, glass, silver and furniture.


My eye is usually drawn to simple shapes and lightly patterned items. My wife is very keen on china and pottery with a particular liking for "Blue and White", Royal Copenhagen, Floral Patterns and Iznik style.
I've just come back from Southern California where I have been helping my 80 year old sister with the administration of her ex-husband's estate after he died recently.
My brother-in-law also came from England and he and my sister emigrated to the US 50 odd years ago. Apart from finding our way past the mound of Californian "red tape" which appears to be designed to stop anyone doing anything nowadays, one of the biggest tasks we faced was clearing his house ready for sale.
To be kind I would call my brother-in-law a collector, but in reality he was a bit of a "hoarder" and I literally sorted out 2 tons of old stuff that was only fit for the dump!
When we had removed the trash, the house was still over furnished and there was plenty of other stuff on display. Amongst what was left, we came across 9 dinner plates which my sister recognised as a set that her mother-in-law had given her many years before. They had been used for a while but then carefully stored away and forgotten about.
They have a gold rim and a beautiful floral pattern that appears to be transfer printed and hand finished. They immediately caught my eye as something beautiful and collectable.
The plates have a red makers mark on the back which I have identified as one of those used by Thomas Morris Ltd of Longton Staffordshire for their Crown Chelsea China
range.
When I looked on line I saw quite a lot of Thomas Morris china up for sale and there are a number of variants of this makers mark, some black, some green, and also some say Made in England underneath whereas the ones we found just say England. I have searched high and low on line and I can't find the pattern or the red mark like the one shown in the photos I've included.
I have also found virtually nothing about the history of Thomas Morris Ltd and whether it just shut down and disappeared or was taken over by one of the larger companies in the potteries. These 9 plates are really quite nice quality so I would be surprised if someone did not sweep up the pieces when Thomas Morris ceased trading.
Also the Crown and the link with Chelsea are unexplained. I thought that generally one had to have some sort of royal patronage to use the crown mark, which again would suggest that Thomas Morris ltd was a quality manufacturer of some repute and unlikely to just disappear.
As for Chelsea, well at first I mixed it up with the Chelsea Porcelain company which some say was one of the founders of the English Porcelain industry and was subsumed by Crown Derby in 1770.
Wow, I thought, if these are just marked Chelsea without reference to Derby they must be pre 1770. What a Find! No of course not, these have nothing to do with Chelsea Porcelain and are likely to be about 150 years younger.
So I'm wondering, can anyone tell me the date range that this red mark was used and better still identify the pattern and when it was made?
Also I would be interested to learn the significance of the Crown Chelsea name and some history of Thomas Morris Ltd and where its descendants are today.
David