Two dots and FKJE or FYE or FTYE ? on a white porcelain clock
by Marsha
(Tucumcari, New Mexico, USA)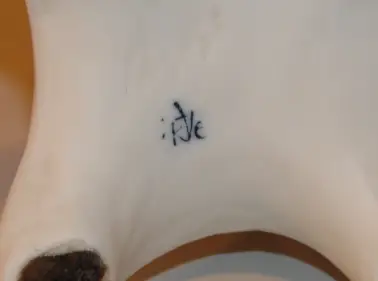 Two dots and FKJE or FYE or FTYE ? on a white porcelain clock
My figurine clock is not my inheritance or something sentimental that I've had since I was a child. I recently bought a box of porcelain figurines, vase, and misc. from a local estate auction with the sole purpose to resell them. (Hopefully for a profit.) I have no previous experience with identification of porcelain makers marks. I was aware of their existence but that was the extent of my knowledge.


So I have spent the last two weeks on a crash course learning how little I know and how much there is to learn. I have been to every website that deals with makers marks and I have reviewed every mark published on this site. I have read many articles and a lot of self help information.
There were a total of 14 figurines, 2 vases and a clock in the box I bought. I have identified the maker of all but three (all on this site, by the way). This mark is the most baffling to me. First of all because I haven't even determined what letters are represented here.
I have entered every possible combination into the search box on this site(i.e. FYE, FJE,FTYE,FKJYE, FTJE, KTJE, KJVE, ETC.). I am at a loss how to describe it so I tried them all.
I am hoping that you or one of your experts will take one look and say "oh that's an easy one".
This mark is on the bottom of a pure white porcelain, table-top clock. It is 10" tall,4" wide and 3" deep. On the front of the clock is a naked woman(or goddess)sandal footed, with fabric flowing around her. She looks Greek. She is sitting on a cloud with birds are flying at her feet. There is a star above her head. Her hands are in position to be playing a harp but there is no harp.
There is a place on her knee that looks like something was broken off. I didn't notice that until I examined it with a magnifying glass. At which time I
also discovered on her right shin is a face of bearded man.(Zeus or Appollo?) The clock work is Junghans, which is a good quality German clockmaker.
So I naturally assumed it must be German porcelain. I reviewed every mark on this site twice. I think I was thorough. I couldn't find it. Any information would be appreciated.
In conclusion, I would like to commend you on all the work you have done in the construction of this website. I have found more useful information here than all the others combined. Good job.
And thank you.
Marsha
------------------------------------
Reply by Peter (admin)
Hi Marsha
Well done for your determination with your research and your testimonial for this site. That is exactly why I started it - to be a permanent online record for all to benefit from. Trouble is, Google have for some reason unknow to me designated my site a spam site and no longer list this site in their search results for the term 'pottery marks'. This is kind of disheartening as my traffic has dropped to a third of what it was an makes me wonder if its worthwhile because the people who should be seeing this site, don't get to see it :-(
I should ask my readers to write to Google and say exactly what you just said, but I don't think it woul ddo too much good as they are now so big and faceless.
Anyway, back to your intriguing mark. It is a completely new one to me, I have never seen anything like it in all the posts we have had over the years, and in all the books I have poured over. It must be German, as you say, as the mechanism is German.
I doubt very much if even the experts could identify this mark, but they could always state the date, origin style and value.
Often on these forum discussions a genius comes along a saves our bacon, giving us the answer. Let's hope so in this case.
Best regards
Peter (admin)