Unique Large-Scale Unglazed Ceramic Figures with Unidentified Mark - Two Cs intertwined, one reversed below 4 pronged crown
by Bruce
(Luray, Virginia)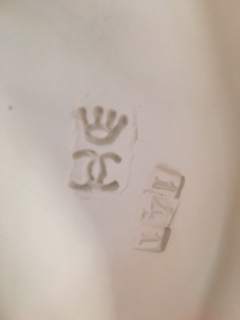 Two Cs intertwined, one reversed below 4 pronged crown
Marking - Two Cs intertwined, one reversed below 4 pronged crown on a white figural group


Hi all
I live in Luray, VA but I'm originally from the Washington, DC area and have been a collector of antique furniture and decorative arts for more than 25 years.
Recently I was at a local Virginia antiques showroom run by a colorful gentleman whose interior decorating skills by far outweigh his knowledge of antiques.
He specializes in "European" antiques and high-quality reproductions - many of which are produced in Asia but closely resemble originals.
He claims to have been "told" that this piece is "150 years old" but it is unusually clean and looks brand new except for a poorly executed repair to the satyr. The faces and hands are beautifully rendered and it screams "QUALITY."
I paid $175 for it thinking that even a poorly repaired piece of this scale and quality would be worth it. I have looked online - even going so far as to subscribe to a service - but have been unable to find anything.
I hope someone out there can help me assign a maker to this interesting work.
Bruce
----------------------
Reply by Peter (admin)
to: Two Cs intertwined, one reversed below 4 pronged crown
Hi Bruce
Nice article, very interesting and relevant.
Let's discuss....
Ok, so the mark is 'homage' the great old firm of Ludwisburg. They used the two Cs intertwined, one reversed below a coronet crown.
So
who also used similar marks and made white figural groups? Answer: the French firm of Niderviller, founded way back in the 18th century.
Did they use the four prong impressed mark similar to yours? Answer: Yes. When? Some sources say first part of 19th century.
Does this make your item from that era by that prestigious firm?
Not necessarily. I know you say it has the quality, but let me show you the real, crushingly sharp quality of top quality 18th century (earlier) Niderviller (these pieces sell for many, many thousand at auction).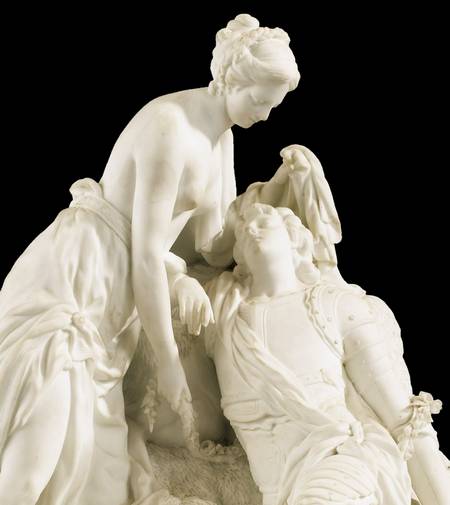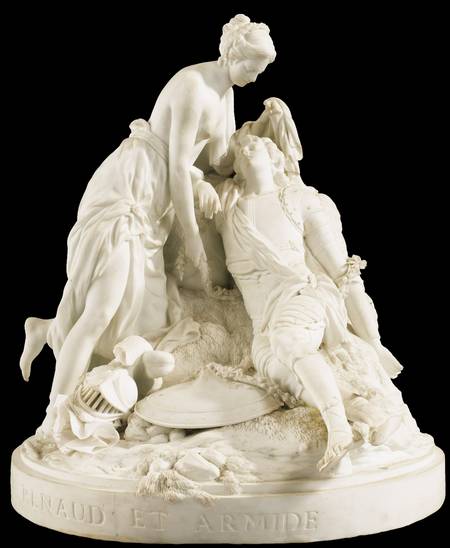 So, you can see the difference. Your quality is less sharp, the detail is not so visible, the modelling good, but not crushingly good.
So, did they make less good piece in the early part of the 19th century?
Answer: Yes, but here an example with the mark:

The above item was not in the same price bracket as the first item above, selling for $375 USD and the estimate was $500-$800. The one above sold for $7300 USD at Sothebys(some sell for twice that).
So could yours be as the dealer described, Niderviller c. 1825?
For me, it looks much more like a clever Far East Replica than a Niderviller of whatever era. So I think you paid about the right price, but check it out with a top flight auctioneer in your country and don't take my word for it.
Interested to see what other commenters think.
Best regards
Peter (admin)