Unknown Marino Pitcher Jug with URN or Jardiniere pottery mark
by Frank
(Clifton, NJ, USA)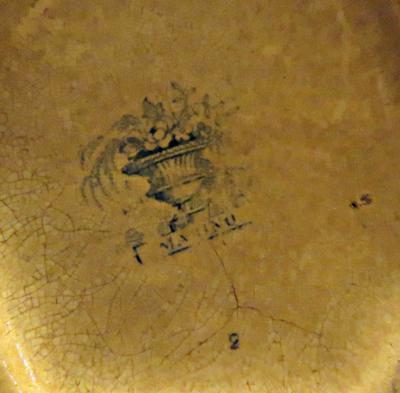 Marino?
Hi my name is Frank and I was wondering if anyone could help me. Recently my mother passed and I came across this pitcher. The mark seems to be of a large vase, urn? with Marino under it and also a 3, I think. I could be wrong because as you will see from the pictures a few of the letters are missing. There also seems to be a 7 or an 'l' placed on the handle. It is six sided and seems to have either an oriental scene or maybe even an Arabic scene, judging from the buildings, on it. Also there is a pattern that runs just under the neck, lip.


This was in a smokers house for at least 50 years and is now very yellowed. I can not tell what color it was originally but my guess is white and black or blue for the scene on it. I am usually pretty good with search engines but I can not find any Marino pitchers. The closest I could come to a match for the scene was some older ironstone porcelain, but there are no marks on it to suggest this. The pitcher seems to have had two cracks repaired at some date before my mother purchased it.
I believe my mother told me at one time she purchased this at a barn auction in upstate New York, USA.
If you need any other pictures or information please just ask. And if this is something simple that I missed please forgive me, I know nothing about pottery or porcelain.