Unusual mark Schoop for Bernard Bloch - Art Nouveau centerpiece figural bowl
by Tiffany
(Australia)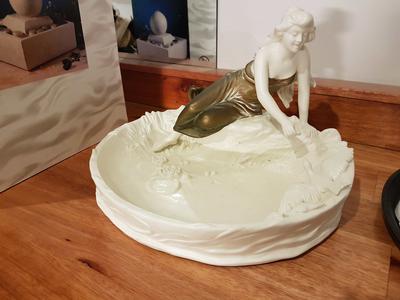 Schoop signature on Bernard Bloch bowl
Unusual Mark Schoop for Bernard Bloch - Art Nouveau Centerpiece Figural Bowl


I am wondering if anyone knows about this unusual pottery mark for a piece by Bernard Bloch.
It is signed Schoop on the back. Underneath are indistinct marks, but there is a BB on the applied stamp.
I have searched online and on this website, but none of the marks match this piece. Has anyone seen it before?
Was it produced during a specific period?
The piece is large and is similar to other BB pieces from the Art Nouveau era, but I have not found the same design. It was purchased from an antique shop, but they did not have any further details.
Any thoughts would be appreciated, thank you.
Tiffany
=====================================
Reply to Unusual mark Schoop for Bernard Bloch - Art Nouveau centerpiece figural bowl
by Peter (admin)
Hi Tiffany
Interesting submission, thanks.
We have another thread on BB Bernard Bloch marks, but I'll keep this one separate to focus more on the artist Theodore Schoop and the Hohenstein factory as I found this piece listed in various finishes as being from the Hohenstein factory (I also want to use this thread to give a mention to items listed in auctions as Hohenstein Schoop or BB Hohenstein and also mention the very interesting Stella Bloch factory I found out about in the course of my research for this query.
Here are some other examples of your item: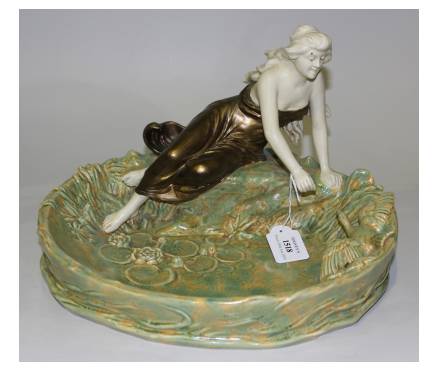 This was sold by Toovey Auctions of West Sussex, UK, for £120 in 2014. Their description is as follows: 'An Art Nouveau Hohenstein pottery table centrepiece, modelled as a maiden seated on rocks feeding ducks, the dish formed as a lily pond, impressed factory marks including '6285' and painted '1527' to base, height approx 21cm'.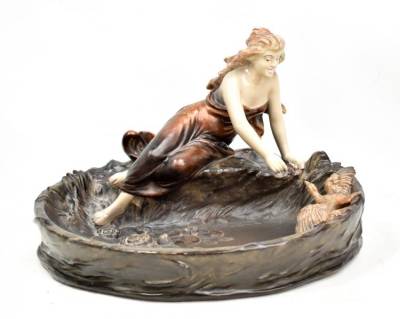 This was listed for sale by Adam Partridge of Cheshire in 2019, the estimate was £200-£300 GBP (UK pounds). The description as follows:
'THEODORE SCHOOP FOR BERNARD BLOCH; a late 19th/early 20th century Art Nouveau ceramic figural centre piece surmounted by a young lady feeding a bird, bearing incised signature to reverse and impressed and painted marks to base, diameter 32.5cm'.
So, both these examples are a bit more elaborately painted than your example, which may effect estimations of value.
So let's get more into the details of Theodore Schoop and the background of the Hohenstein factory.
If you search Google images for Schoop's work you will see various example of his Art Nouveau figurine sculptures, including the two above. They are well done and seem to be valued at between $300-$500 USD.
I know Bloch is associated with factories in at least three locations. His first was in Hohenstein, Bohemia which he took over in 1869 and then Eichwald, Bohemia which he bought in 1895 (it became B Bloch & Co and later other names after Bloch's death - such as Royal Dux, Count Thun, Duchovský, Karlovarský (Carlsbad Porcelain), Ceský, Dubí and
Duchov. There was also the Wistritz plant which he ran between 1889-1911.
The Ceský brand survives to current times (2022 was the last time I checked - (see
Cesky Porcelain
) and is known for the 'Blue Onion' branding.).
I can find very little on the history of the history of the Hohenstein factory though, or Schoop himself - I don't know when Hohenstein stopped manufacturing or exactly what it made. I know Bloch's output had an association with the Royal Family of Thun of Hohenstein and that he was especially known at one time for tobacco related porcelain products.
One clue I found is this listing (see below) of a 1920's figural piece shown on Liveauctioneers.com which suggests that the factory was producing into the 1920's. Unfortunately there is no image of the BB mark described.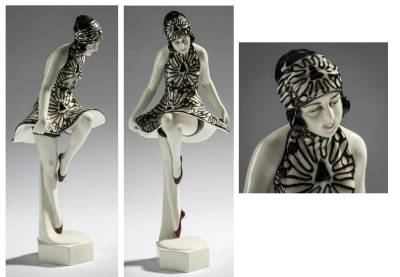 This amazingly good piece sold for the large and juicy figure of €1800 Euros (estimate was €400-€600) and is described as being marked with 'BB HOHENSTEIN' and being by Stella Bloch c.1925 (note: not Bernard Bloch).
So, this got me searching for Stella Bloch. Eventually, I found one obscure listing on a German website which I translated and it said this:
"Circa 1921: There was separation of the B Bloch companies into:

Bloch B - owner is Stella Bloch (majolica and terracotta factories, located in Hohenstein).

Eichwald Porcelain and Stove Factory Bloch & Co -
Owners are Arthur Bloch, Hugo Freund and F. Schindler."
Here's the thing, the world renowned artist Gustav Klimt is said to have an artistic collaborator with the Bloch factories between 1895 and 1930. This may account for the price of the flapper girl figurine above.
Designs were also done by Josef Hoffmann and Dagobert Peche, among others.
So Stella Bloch may be more important than Bernard Bloch, it appears.
Here is another listing which looks to be the same era: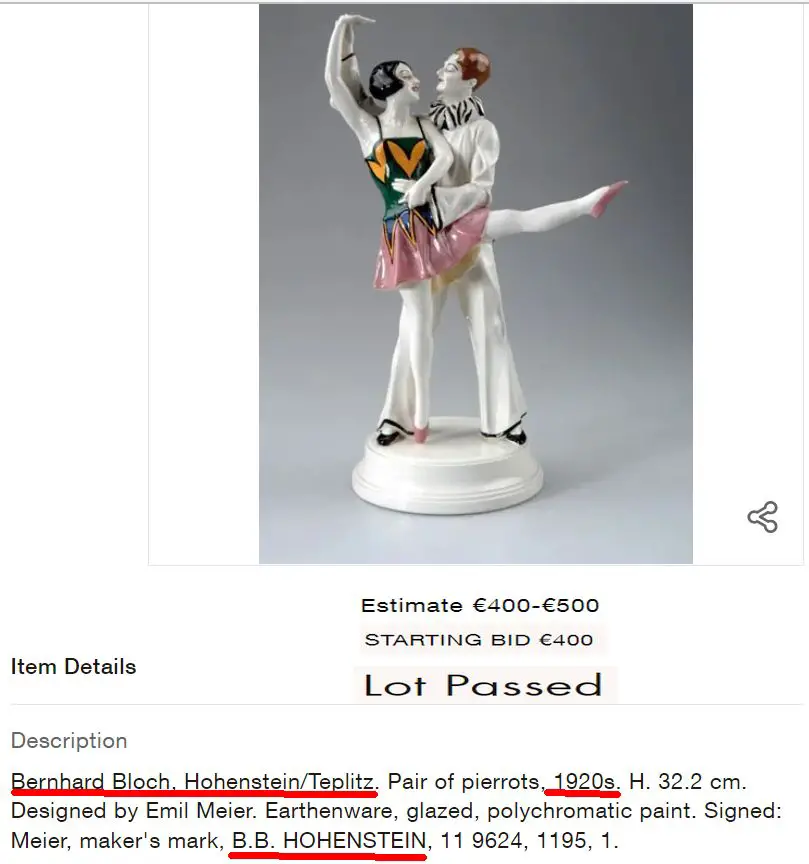 So, getting back to Schoop the sculptor. What we do know is that Theodore Schoop was a Bohemian sculptor producing Art Nouveau style Bohemian work for the various Bernard Bloch brands and marks around the late 19th to the early 20th century.
He seems to have been great at female figures, sometimes featuring bowls like yours and sometimes animals too.
I can find no biography on Theodore Schoop, so we will just have to let his work tell his story.
It is very possible that later production used the old Schoop moulds to sell to the West or other internal markets as long the demand for 'Bohemian' porcelain was strong - perhaps, at a guess, well into the latter part of the 20th century.
So, in other words there are Schoop sculptures around that are from the original 19th century incarnation of Bloch/Hohenstein, and there may be others that are later but from the original moulds. This possibly accounts for variants of auction price results.
Hope this sheds a bit more light on your item.
Best regards
Peter (admin)