Vase with scene of Chinese women with little boys
by Lori Allen
(Phoenix, AZ, USA)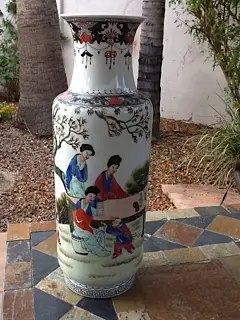 front of vase
Dear Peter


This vase was from my grandmother in law. She had it in her Milwaukee home until she passed. I do not have any idea where she got this vase or the figurines of the women.
I also have 2 geisha figurines that she displayed with it. She also had 2 other white figurines with delicate painting, but they had been glued back together so many times and the glue had discolored the figurine, my mother in law discarded them.
The quality and color of the painting on this vase is beautiful. There are cherry blossoms around the bottom neck of the vase and at the bottom of the vase is a greek key. The top of the neck has a beautiful design that has a double circle with 3 "dangles" off the double circle. This double circle alternates with a fan pattern with a cut out of the middle. The fan also has 3 dangles.
The scene depicts 4 women at a table with books, quills and ink pot and paper. I am not sure if these women are Geisha because they don't have the traditionally white faces. They have color around the neck, cheeks and chin. The little boys are similarly painted with white foreheads and the color becomes darker at the neck. The little boys are bringing items to the table.
Two of the women are sitting on large vases. The other two women appear to be standing behind
the table. The table also has greek keys in the legs. I am assuming these are little boys because they have shaved heads with tufts of hair above the ears and one little boy has male pattern balding but because of the assumed age of the children, it must have been shaved.
There are rocks painted on one side of the vase and a tree on the other side of the vase. The markings on the skirts of the women are all different. Each skirt has a different symbol in the pattern of the material. Only one woman has a flower in her hair. Three of the women have their hair on top of their head and one woman has Princess Lea side buns.
The symbol on the back of the vase does not match with the symbol at the bottom of the vase. The back of the vase symbol is in an oval and the first symbol looks like a pitchfork. This is why I am looking to others that have a more vast knowledge of chinese symbols.
I would love to hear from anyone that knows about the markings and symbolism of the scene depicted on the vase. If anyone has any idea of the value (if it even has any value), I would also be interested in learning more.
I appreciate all the knowledge of the experts out there who take time to read this lengthy post (per requirements).
Best regards
Lori